---
---

---
Vegas 100 Online Qualifiers
26/01/2015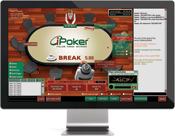 The next member of Vegas 100 will be found via an online qualifier on Friday 30th January from 7:30pm on Grosvenor Poker. With just an £11 buy-in you could be part of May's Vegas 100 group with all the perks that come with it. You could even end up playing in the World Series of Poker (WSOP) Colossus event via our live qualifier while in Vegas.
The online qualifier details are below.
[More]

---
Season 4 - Week 13 Year 2014 - 2015
3 days left in this season.
There are Currently 178829 Players competing in pubs across the UK.

---
A great selection of online tournaments including
- Redtooth Tavern - Sun 2pm.
- Special Events...
Visit www.grosvenorcasinos.com/redtooth

---
Gareth Tomlinson is the UK Pub Poker Champion!