---
---

---
Vegas 100 Online Qualifier
12/12/2014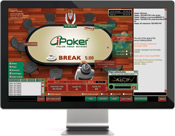 JOIN THE VEGAS 100 EXPERIENCE ON GROSVENOR POKER FOR JUST £11!!
On Friday 12th December from 8pm we are awarding ANOTHER another seat into our Vegas 100 National Final to a lucky Redtooth Poker member.
In 3 EASY steps you can be in with a chance!
1. Create a Grosvenor Poker account here
2. Deposit just £11 into your new Grosvenor Poker account
3. Get access to the password by entering your registered details here
(Forgot your details? Email us - online@redtoothpoker.com)
You now have everything you need to register and be in with a chance of winning a trip of a lifetime with your friends at Redtooth Poker!

---
Season 4 - Week 7 Year 2014 - 2015
44 days left in this season.
There are Currently 177796 Players competing in pubs across the UK.

---
A great selection of online tournaments including
- Redtooth Tavern - Sun 2pm.
- Special Events...
Visit www.grosvenorcasinos.com/redtooth

---
Gareth Tomlinson is the UK Pub Poker Champion!