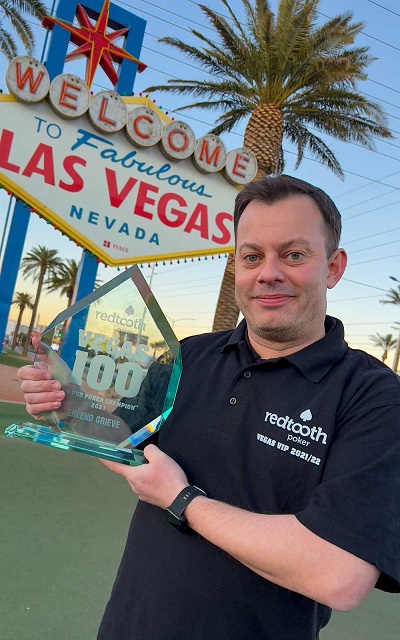 Erlend Grieve – Stromness Golf Club, Stromness
UK PUB POKER CHAMPION
What is VEGAS100?
In 2012, Redtooth Poker revolutionised pub poker in the UK by introducing VEGAS100, a concept taking the UK's top 100 poker players, which are found via regional, national and online qualifiers, to the poker capital of the world, Las Vegas, to join the VEGAS100 experience and compete for the title of UK Pub Poker Champion. 100 players would travel across the pond but only 1 would return as the champion. Essex's Mathew Sherreard emerged victorious last year to become our most easterly champion to date but would he hold onto his crown or would a new star emerge from the desert of Las Vegas?
First Player Out
We kicked the tournament off on time as 'shuffle up 'n' deal' was announced at 11am. With our VEGAS100 final offering an exceptional structure it took just over an hour before we lost our first player. The VEGAS100 structure is designed to give all qualifiers a great Las Vegas poker playing experience, even for the first player out! The unlucky player on this occasion was James Hurn from the Crossbar Hotel in Warrington.
Last Year's UK Pub Poker Champion Runs Deep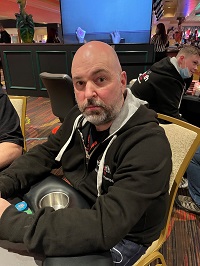 Last year's champion Mathew Sherreard made a good attempt of defending his title but he fell in 23rd position, just 3 places shy of the money. The now ex-champ had an unusual "year" as champion. It was largely interrupted due to various UK lockdowns, but still managed to get numerous events in the diary and even played in a tournament with a buy-in as high as £1,500.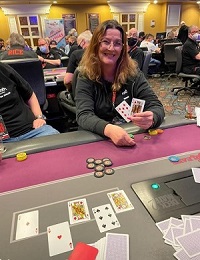 In a field that was dominated by men, we still had a lady on the final table. Theresa Baker from the Snooty Fox in Crawley finished in 9th position for a nice cash of £300. Theresa qualified for the VEGAS100 in the 11th hour by winning a late online qualifier which was ran over the Christmas period. So paperwork was rushed into our office over Christmas so Theresa could join us on the trip of a lifetime and we're delighted that she did. Theresa also hit her first live Royal Flush. Not a bad place to hit one, under the bright lights of Las Vegas…
In the early Las Vegas evening we had our final 20 players who were all guaranteed to win a slice of the £25,000 prize-pool. This was after Ben Franklin from the Moorhen in Peterborough bubbled the cash prizes in 21st place. All remaining players were guaranteed £100 for their efforts so far, but all 20 players no doubt had their eye on the top prize of £8,000 in cash and a £5,000 sponsorship package.
Welcome our final 20 players
20th: Tommy Silvestro – Wintergills, Glasgow
19th: Colin Mullen – Granary, Elgin
18th: Matthew Thomas – Birchgrove, Cardiff
17th: Chris Austin – Cousins Pool Lounge, Canterbury
16th: Richard White – King William, Barry
15th: Simon Webster – Swan, Ipswich
14th: Daniel Penny – Hollybush, Cardiff
13th: Tom Furber – Green Star, Stoke-on-Trent
12th: Matt Cragg – Red Barn, Bexleyheath
11th: Dean Brookes – Sutton Park, Sutton Coldfield
VEGAS100 2020 Final Table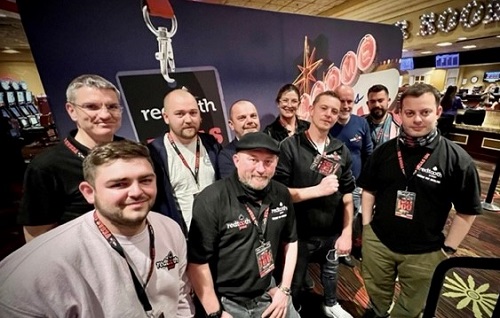 With the Redtooth arena created by the Orleans Casino poker room which included tiered seating for spectators, giving our final table a WSOP feel, the remaining players exited in the following positions…
10th: Charles Beesley – New Inn, Worcester
9th: Theresa Baker – Snooty Fox, Crawley
8th: Gary Robinson – Robertsbridge Club, Robertsbridge
7th: Darren Nixon – Sherwood, Sheffield
6th: Stephen Parry – Hollybush, Cardiff
5th: Michael Foster – Swan, Wimbledon
4th: Thomas Lake – Crosspool Tavern, Sheffield
3rd: David Calado – Pier House, St Austell
Our final two players playing the heads-up match was Stromness's Erlend Grieve, who held the chip lead for pretty much the whole final table and Michael Barnes from Rushden's Windmill Club. The final hand saw Michael raise all-in with Q-7, only to be called by Erlend Grieve holding K-J. The flop failed to improve either hand as we saw A-6-3 hit the felt. The turn, however, immediately ended the contest when the dealer dealt a K on the turn to seal the deal for Erlend. The river was a meaningless 8 which officially crowned a brand new UK Pub Poker Champion! Congratulations Erlend Grieve the 2020 UK Pub Poker Champion.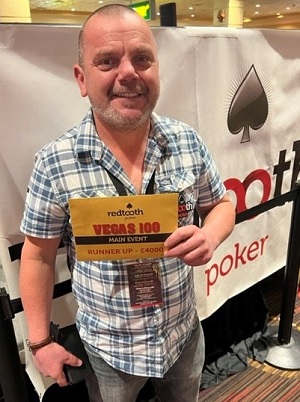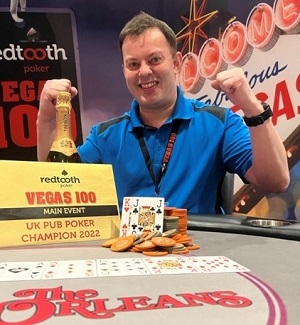 Erlend takes away £8,000 and a £5,000 sponsorship package which includes: Return trip for VEGAS100 May 2022, custom branded clothing, entry into all of the RPT legs and many many other tournaments around the UK poker scene.
VEGAS100 Winner's Trophy – The Handover
VEGAS100 Finishing Positions
01 – Erlend Grieve – Stromness Golf Club, Stromness (£13,000 package)
02 – Michael Barnes – Rushden Windmill Club, Rushden (£4,000)
03 – David Calado – Pier House, St Austell (£2,000)
04 – Thomas Lake – Crosspool Tavern, Sheffield (£1,500)
05 – Michael Foster – Swan, Wimbledon (£1,000)
06 – Stephen Parry – Hollybush, Cardiff (£750)
07 – Darren Nixon – Sherwood, Sheffield (£500)
08 – Gary Robinson – Robertsbridge Club, Robertsbridge (£400)
09 – Theresa Baker – Snooty Fox, Crawley (£300)
10 – Charles Beesley – New Inn, Worcester (£200)
11 – Dean Brookes – Sutton Park, Sutton Coldfield (£200)
12 – Matt Cragg – Red Barn, Bexleyheath (£200)
13 – Tom Furber – Green Star, Stoke-on-Trent (£150)
14 – Daniel Penny – Hollybush, Cardiff (£150)
15 – Simon Webster – Swan, Ipswich (£150)
16 – Richard White – King William, Barry (£100)
17 – Chris Austin – Cousins Pool Lounge, Canterbury (£100)
18 – Matthew Thomas – Birchgrove, Cardiff (£100)
19 – Colin Mullen – Granary, Elgin (£100)
20 – Tommy Silvestro – Wintergills, Glasgow (£100)
21 – Ben Franklin – Moorhen, Peterborough
22 – Stephen Hale – Hollybush, Cardiff
23 – Mathew Sherreard – Zach Wilshire, Benfleet
24 – Fouad Benchiba – Redbridge, Andover
25 – Chris Turk – Spencers Sports & Social Club, Melksham
26 – Gary Lythe – Navy Club, Darlington
27 – Carl Wright – Halfway House, Bradford
28 – Graham Gorton – George V, Birmingham
29 – Colin Craggs – Gateshead Legion Club, Gateshead
30 – Paul Bowden – New Club, Oxford
31 – Adam Howley – Swan, Ipswich
32 – Paul Gavan – Fountain Bar, Aberfeldy
33 – Keith Bowtell – Swan, Brentwood
34 – Craig Duffield – Attleborough Arms, Nuneaton
35 – Chris Wathen – Assembly Rooms, Epsom
36 – Michael Breed – Magdalen Sports Bar, Doncaster
37 – Ben Ford – Gateshead Legion Club, Gateshead
38 – Phil Longley – Brewery Tap, Worksop
39 – Lawrence Main – Winding wheel, Cannock
40 – George Robertson – Mither Tap, Aberdeen
41 – Spencer Owen – Globe Inn, Buckfastleigh
42 – Dave Havenhand – Mosborough Miners Welfare, Sheffield
43 – Calum Hall – Dean Tavern, Dalkeith
44 – Ricardo Caldeira – Monkfield Arms, Great Cambourne
45 – Steven Wilkie – Old Brewery, Alloa
46 – Steven Lloyd – Peacock Inn, Shrewsbury
47 – James Duncan – Gloucester, Weymouth
48 – Jamie Andrew – Lanivet, Bodmin
49 – Andy Moores – New Club, Wheatley
50 – Ryan Miller – National Reserve, Grimsby
51 – Ashleigh Cooper – Wheelhouse, Nottingham
52 – Matt Martin – Brook, Cambridge
53 – Nick Clifton – Mosborough Miners Welfare, Sheffield
54 – Adrian Davidson – Stromness Golf Club, Stromness
55 – Harry Close – Caledonian, Inverness
56 – Robert Wilkins – Hunting Lodge, Ivybridge
57 – Paul Razzell – Boundary Arms, Maidenhead
58 – Roy Arnold – Ranking Club, Leominster
59 – Andrew Quinn – Swan Inn, Haslemere
60 – Robert Wignall – Club Louis – Catterick
61 – Natalie Brown – Newton Arms, Doncaster
62 – Patrick Buchanan – Hunters Moon, Birmingham
63 – Simon Odom – Nags Head, Enderby
64 – David Trasler – Glen, Leicester
65 – Robert Bradfield – Old Engine House, Torquay
66 – Richard Stocker – Tinhat, Hinckley
67 – Malcolm Counihan – Swan, Wimbledon
68 – Ryan Patel – Bulls Head, Whetstone
69 – Gabriel Tecar – White Lion, Bristol
70 – James Hurn – Crossbar Hotel, Warrington