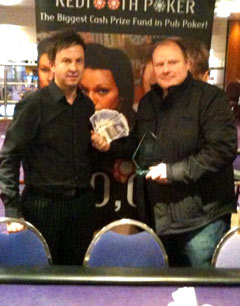 The Stanley's Circus Casino in Manchester hosted our North West One Season 4 Regional Final, with 127 players in attendance.
The top eight would receive cash prizes totaling £1000 with the top six receiving a National Final invite.
10 players would take their seat for the final table meaning two unlucky players would be leaving empty handed. Eric Bradbury from the Dog & Partridge in Morcambe would start as the chip leader with 135,000 in chips with Daniel Birch from the Golden Lion in Todmorden starting as the short stack with only 10,000. A comeback never materialized for Daniel as he was to be the first player out in 10th place.
The heads-up match would come down to Craig Knight from the Waggon & Horse in Wilmslow and Carl Ringland from the Spring Inn in Rochdale. The final hand of the night saw Craig's 67 flop an open ended straight draw with Carl flopping top pair holding J9, a 10 on the turn would give Craig the straight but also giving Carl a chance of a re-draw to a bigger straight. The river bricked which left Craig as the North West One Regional champion. £500 goes to Craig along with a Redtooth glass trophy and a National Final invite.
National Final Qualifiers & Cash Prize Winners
1st Craig Knight – Waggon & Horse, Wilmslow
2nd Carl Ringland – Spring Inn, Rochdale
3rd Rod Williams – Royal Hotel, Atherton
4th Andy Taylor – Royal Hotel, Atherton
5th Aaron Bailey – Blue Bell, Manchester
6th Eric Bradbury – Dog & Partridge, Morcambe
Other Cash Prize Winners
7th Sam El-Barbisi – Varsity, Manchester
8th Paul McGarry – Bowling Green Inn, Oldham