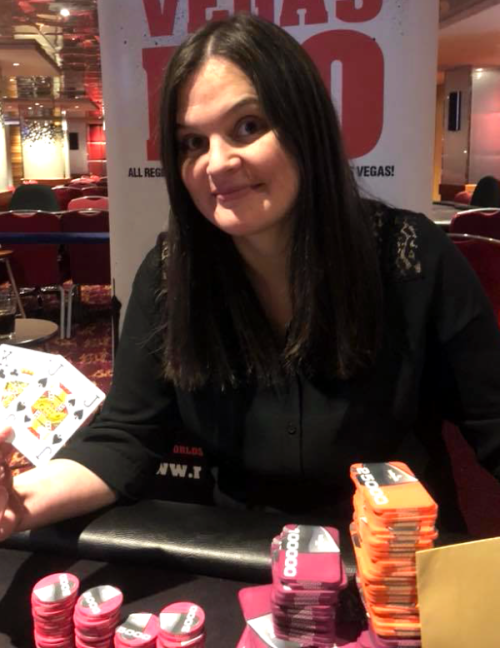 The Blackpool leg of the Redtooth Poker Tour returned for leg 2 after a years hiatus and it returned with a bang! A 2 day team event with a brand new format was used, a format to our knowledge that had never been used before. Each team was made up of 4 players with 1 re-entry available per team. The twist was that the re-entry would be a chip re-entry so a minimum of 10 big blinds could be taken from another players' stack to be given to an eliminated team member to re-join the tournament. Out of the 50 potential re-entries 19 were used. 16 re-entries on day 1 and 3 re-entries on day 2.
The team standings were based on each team's highest finishing player. So the winning team would be the team of the tournament winner. Each team was to use their re-entry in a way that would maximise the chances of one of their players winning the tournament, therefore also winning the team event. The tournament winner would win a VEGAS100 seat with the other 3 members accompanying them as a guest to Las Vegas. £2,000 in cash was also split between the next 4 winning teams so in total 20 players won a prize.
Nick Clifton from the A Team was given 2000 chips before the first break and he went on to finish in 7th place being the highest finisher of all the re-entries. Rob Wibberley also used his chip re-entry well after being given 2000 chips before the first break, he went on to finish day 1 as the chip leader on around 450,000 chips. Lynn Mackintosh, another day 1 re-entry and member of the winning team, also ended with a nice stack of over 200,000 chips.
The Results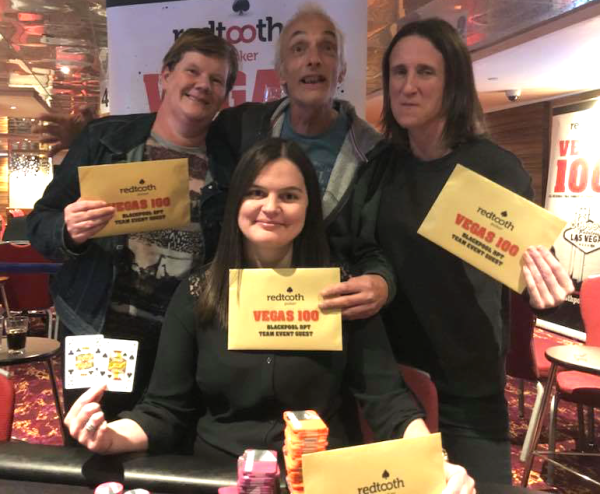 01. 1st Daniell Paterson – The Wonkey Donkeys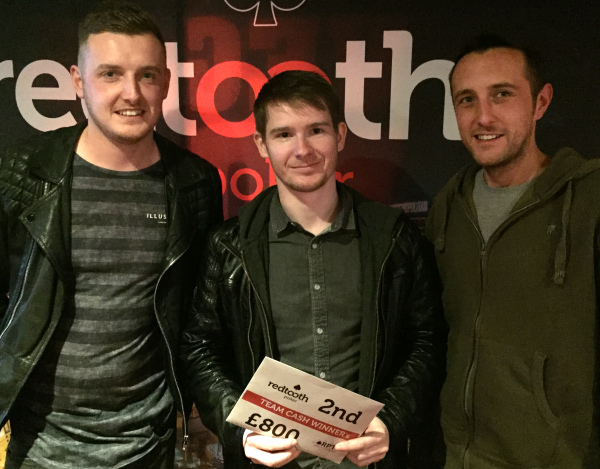 02. 2nd Dan Scott – Can't Lose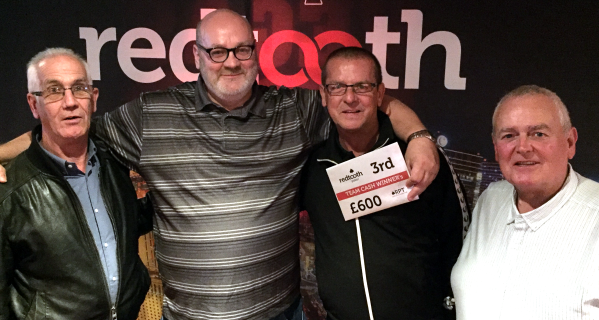 03. 3rd Willie Gifford – Viking Warriors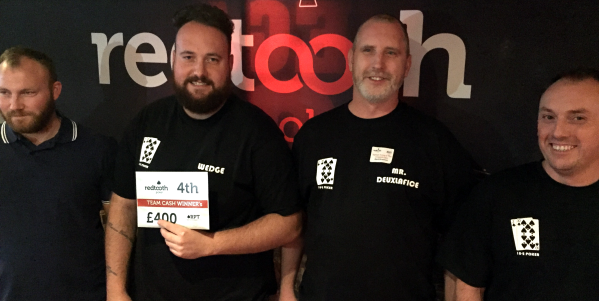 04. 4th Scott Woodlock – Fatman Scoop & The Crippled Clan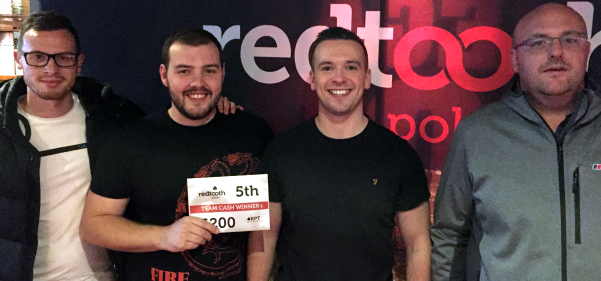 05. 5th Phil Bryan – Call Me Daddy
06. 6th Andy Sharples – Peaky Blind Stealers
07. 7th Nick Clifton – The A Team
08. 9th Richard Hills – The Mavericks
09. 10th Colin Clayton – Suits
10. 12th Liam Bint – Better Without Brad
11. 13th Terry Pitman – Chubby Checkers
12. 14th Daniel Lambert – Grimsby Grinders
13. 15th John Cassidy – Network
14. 16th Arif Shagari – Team Two
15. 17th Martin Campbell – Bravehearts
16. 20th Paul McNeil – Queens Over Kings
17. 21st Paul Elliot – 4 King Amigo's
18. 23rd Paul Hayton – 11 Degrees
19. 24th Richard Couldwell – RRB
20. 26th Declan Sutherland – 4 of a Kind
21. 28th Vaughan Bailey – Birmingham Bullets
22. 30th Declan Stone – I Flopped Two Pair
23. 31st George Robertson – Kiss My Ace
24. 33rd Jon Whale – Poker? I Don't Even Know Her
25. 35th Ian Ritche – The 4 Wise Monkeys
26. 37th Paul van Iterson – Jammin' with the Nuts
27. 38th John Stirling – The Hedgehogs
28. 40th Andy Moores – Riverside Vikings
29. 41st Dominic Hazlett – Fearsome Foursome
30. 46th Nick Tyler – Slackers
31. 46th Andrew Winbourne – DCM Members
32. 51st Ant Williams – Vegas Dreamboys
33. 57th Sarah McElhone – Sneaky Blinders
34. 57th Lee Townley – Here For The Beer
35. 58th Matt Needham – Four Fish One River
36. 59th Adam Goodall – The Fishtastic Four
37. 60th Andrew Jones – Columbo
38. 61st Bruce Hearn – Suenarmy
39. 67th Darius Janial – Moonies
40. 68th Emma Brady – We Don't Even Fold Our Sheets
41. 83rd Alex Rouse – The Walton Rat Pack
42. 104th Phil Longley – 4 Ace's not good enough
43. 107th Paul Murphy – 3 Smurfs & The Champ
44. 108th David Hall – 4 Poles 8 Holes
45. 109th Kath Glover – The Shaven Raven Quiz Quartet
46. 119th Lawson Finch – Dorking Donks
47. 142nd Krissie Grayson – The Mix Up's
48. 144th Jamie Evans – All Inn My Nut's
49. 160th Tom Furber – Unnamed
50. 174th Karl Jones – Four King Donkeys
Final standings were based on the finishing positions of the players who signed out. Some finishing positions were duplicated because of re-entries. In this case each team's 2nd best finisher was used.
The Best Team Name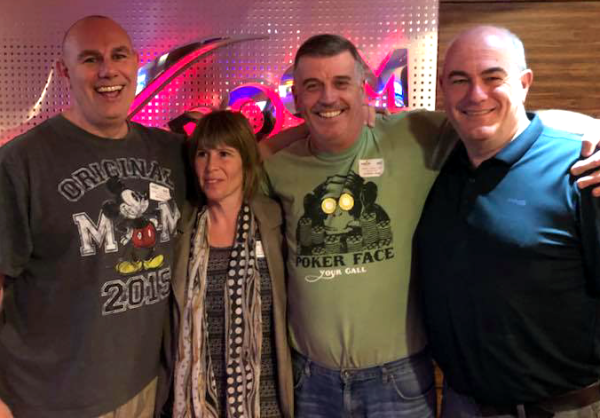 As always, there was a prize for the best team name, just as a bit of added fun. The winner was chosen by the card room manager Tanya who went with Poker? I don't Even Know Her. Congratulations to Jon Whale, Deena Gray, Daniel Parsons and Rob Wilkins for having the best team name.