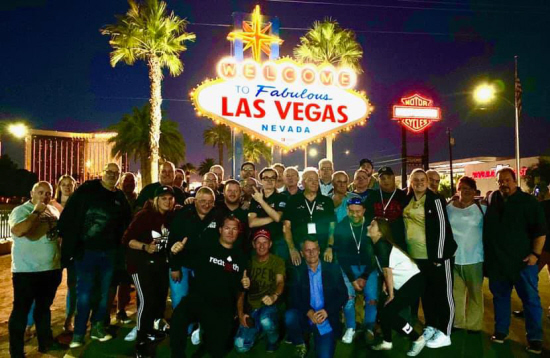 Wow what a week the Redtooth & Nuts Poker Team, representing Great Britain, had at the World League Poker Championships, held at The Orleans Hotel and Casino in Las Vegas.
The team arrived on Sunday evening with a number of players heading straight to the poker table get involved in The International Tag Team event making a huge impact immediately with 3 teams cashing.
The Main event followed on the Monday morning, the whole team entered the room together for day one, with 280 players taking part from various leagues from America, Canada and Great Britain. The event played down to the final 24 runners and had no less than 8 players all still in the game and in the money. Tuesday, day two we lost John Jackson early doors however Dave Potter & Chris Rudd cashed making over $450. Julien Varney & Emily Glancy showed their WLPC experience and made the final table coming 9th & 7th respectively. A superb result each cashing over $1000 each.
For the International Cup our team consisted the of highest finishing 8 players from The Main Event. The team played extremely well and battled their way to the final table. The final table was made up of 5 Team GB players, 2 From Team Canada & 3 from Team USA. After a few bad beats and amazing river cards it came down to Chris Rudd from Team GB & the eventual winner John Turpin. For WLPC 2019 with Team USA retaining their title.
Alison Bradbury took down the Redtooth players only event and Barry Matthews managed to secure a win in the game of the week The International Dream Team, taking home a whopping $2000 and the trophy.
In addition to this another 2 Team GB players secured cash including Les Parameter.
Overall the team played some great poker, making every final table and showing the world just how good Team Great Britain are.
Next year the event will run from Oct 31st – 4th Nov and we look forward to welcoming some new players to Team GB.
Watch out for your chance to make 2020's Team GB in our live & online events.
We would like to thank our hosts Mike and his team from World Tavern Poker for making this event a great success, we are already looking forward to joining you!!