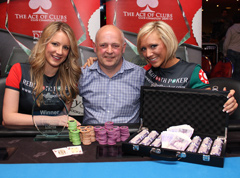 Dusk Till Dawn in Nottingham was once again the host for the Riley's Ace of Clubs tournament quarterly final.
222 qualifiers from Riley's clubs all over the country gathered at high noon on Sunday 25th April 2010 to take part in the shootout for a chance to take home a share of the £10,000 prize pot.
Glass trophies and certificates were presented to all of the club winners by Martin Green from Redtooth and John Holmes from Riley's.
Before the tournament began players were provided with a buffet to charge up their energy levels prior to what was to be another marathon event. The London Marathon was won in just over three hours, while the Ace of Clubs tournament would be won in 12!
Play got underway promptly at 2.00pm when DTD Tournament Director, Simon Trumper, announced "Shuffle up and deal".
With a 10,000 starting stack and 24 minute blinds it was no surprise that it took almost 45 minutes before we had our first casualty, Neil Strong from Riley's Coventry. The day was far from over for Neil, however, as he stayed to support the other players from his club he entered one of the evening scheduled DTD tournaments where he finished a very creditable 4th.
As the day progressed and the blinds increased players fell by the wayside, by 10.30pm we were down to the final two tables, with all 18 remaining players guaranteed a share of the prize money. Riley's Derby with three players, and Riley's Stevenage and Worcester who both had two each were the best represented clubs at this point.
The nine players who made it to the finishing straight were, in seat order;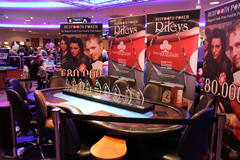 Faisal Khalid (Worcester) 230k chips
Yunus Mehtajee (Preston) 94.5k
Jeff Drake (Atherton) 402.5k
Paul Kelly (Belle Vue) 53k
Jason Wright (Stevenage) 237.5k
Terry Cameron (Derby) 421k
Bobbi Khalid (Worcester) 200.5k
Kevin Quayle (Chester) 229k
Ali Haidar (Cardiff- Wellington St) 340k
Play on the final table was fast and furious with everyone apparently keen to take a few risks. The short stacks, Yunus and Paul both had early success and managed to double up. Chip leader, Terry Cameron, was also very active, eager to at least see the flop with almost anyone. His aggressive play brought quick rewards and in a fairly short time we had lost five players. Bobbi (9th), Kevin (8th), Jason (7th), Faisal (6th) and Yunus (5th). By now Terry had increased his chiplead and was sitting with over one million chips, almost half the total in play.
Paul, after his early double-up, had been playing a patient game. However with the blinds continuing to rise he was fast running out of time and eventually finished a very creditable 4th having come to the final table as the short stack.
Ali, enjoying his moment in the spotlight, was having a real battle, mainly with Terry and after several winning moves the chips were almost evenly divided.
Jeff, having been by far the most patient player at the table, decided to join in with the fun. Ali was eventually eliminated in 3rd place and took a well deserved £1,000 back home with him to Cardiff.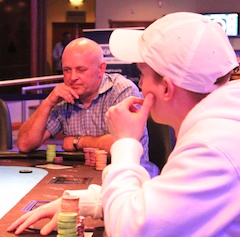 Heads up saw Jeff taking on the long time chip leader Terry, although the advantage was now with Jeff who continued to pressure Terry at every opportunity
Finally Terry went all-in, and was swiftly called by Jeff. Terry turned over Ac, 4c and Jeff showed Kh, 4h. The flop came down 7h, Ah, 5s giving Terry top pair and Jeff a flush draw, the turn was Qh completing Jeff's flush and leaving Terry drawing dead, the river card was 4d.
Terry's reward was £2,000 in cash, whilst Jeff took home £4,000 along with the Ace of Clubs trophy.