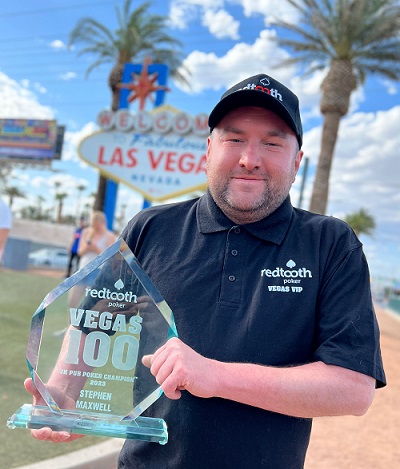 Stephen Maxwell – I-Que Cafe Bar, Kirkintilloch
UK PUB POKER CHAMPION
What is VEGAS100?
In 2012, Redtooth Poker revolutionised pub poker in the UK by introducing VEGAS100, a concept taking the UK's top 100 poker players, which are found via regional, national and online qualifiers, to the poker capital of the world, Las Vegas, to join the VEGAS100 experience and compete for the title of UK Pub Poker Champion. 100 players would travel across the pond but only 1 would return as the champion. Warrington's Colin Broadhead emerged victorious last time out in 2022, but would he hold onto his crown or would a new star emerge from the desert of Las Vegas?
First Player Out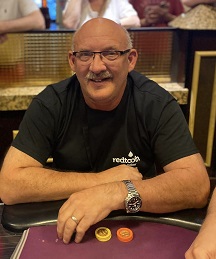 We kicked the tournament off on time as 'shuffle up 'n' deal' was announced at 12pm. Eventhough our VEGAS100 final offers an exceptional structure, even that couldn't prevent Kevin Hunt from being our first player out after only 10 minutes. Kevin expereinced some exceptionally bad luck within the first 10 minutes of the tournamnet when he was dealt A-A. He got to the river as you often do with Aces, only to see a Q hit the felt. The despair soon came apparent as his opponent tabled Q-Q for a rivered set to eliminate Kevin in 104th place. The VEGAS100 structure is designed to give all qualifiers a great Las Vegas poker playing experience, even for the first player out! Unlucky Kevin, that's taking bad luck to the next level. At least if you return again in the coming years, you should have a better run. Not all was lost for Kevin. As the first player out he was awarded a special Orleans Poker Room jacket by Eric, the card room manager.
Royal Flush for Paul Skinner
As Glenn was roaming the room chatting to some of our players, he walked over to visit table 34 at the exact moment Paul Skinner hit a Royal Flush! We couldn't let this go unnoticed, so we gave Paul a Redtooth Poker branded baseball cap. Well done Paul. Unfortunately for the man from Fleet, his luck soon ran out as he exited in 52nd position. Better luck next time!
A quick update with 12 remaining.
Here we see our eventual champion Stephen Maxwell using his big stack to some good effect against Lisa Newboult, who incidently went on to finish as our highest female player.
In the early Las Vegas evening we had our final 21 players and they were all guaranteed to win a slice of the £25,000 prize-pool. This was after Oliver Hakin and Andy Graham exited at the same time while hand for hand on the bubble. All remaining players were guaranteed £100 for their efforts so far, but the remaining 19 players no doubt had their eye on the top prize of £8,000 in cash and a £5,000 sponsorship package.
Welcome our final 20 players
Hat-trick for 'Tubs'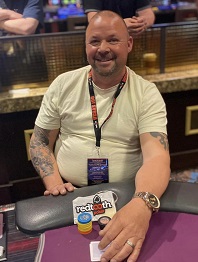 Paul Harrison from the Crown Inn in Heanor, Derbyshire, achieved a Redtooth Poker first! Not only has he qualified for VEGAS100 on four separate occasions, he has cashed in all four! What's more, he has now hit THREE VEGAS100 final tables!! To add to his golden tickets, he has also bagged a couple of guest tickets for his wife to accompany him over the years. Excellent achievement for one of our longest members. A definite contender for a Redtooth Poker Hall of Fame spot (If there ever was such a thing).
Paul had his best run to date as he finished in the runner-up spot for a nice £4,000. A nice prize as an alternative for missing out on the amazing prize of a £13,000 winner's package. Don't be surprised to see him back next year looking for another deep run.
Away from VEGAS100, Paul's first Redtooth Poker tournament back after this trip saw him achieve MALTA52 qualification. So, good luck in Malta!
VEGAS100 2023 Final Table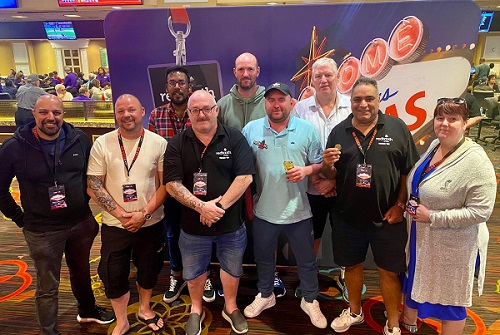 With the Redtooth arena created by the Orleans Casino poker room which included tiered seating for spectators, giving our final table a WSOP feel, the remaining players exited in the following positions…
Our final two players playing the heads-up match was Glasgow's Stephen Maxwell, who came into the heads-up match as a huge chip leader after dominating the whole final table, and Paul Harrison from Derbyshire. The heads-up match only last a couple of hands as two very respectable hands collided to finish the tournament. Paul shoved his short stack in the middle with 2-2 and was greeted by an immediate call from Stephen tabling A-5. The flop favoured Stephen as 9-Q-A hit the felt. The turn and river ran off K-J to be of no help to Paul as Stephen was announced as the winner and became our latest UK Pub Poker Champion. Congratulations!!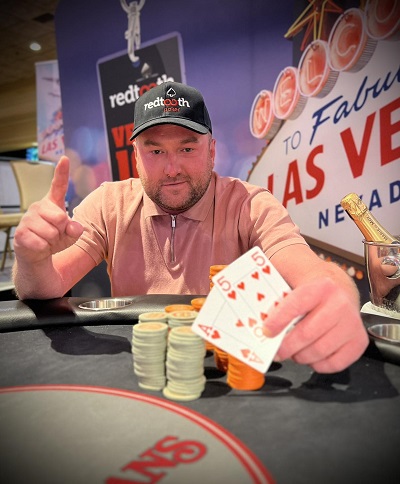 Stephen takes away £8,000 and a £5,000 sponsorship package which includes: Return trip for VEGAS100 May 2024, custom branded clothing, entry into all of the RPT legs and many many other tournaments around the UK poker scene.
VEGAS100 Finishing Positions
01 – Stephen Maxwell – I-Que Cafe Bar, Kirkintilloch (£13,000 package)
02 – Paul Harrison – Crown Inn, Heanor (£4,000)
03 – David Hawksworth – Angel, Baildon (£2,000)
04 – Mark Davies – Lambwath, Hull (£1,500)
05 – Eddie Cherrie – Shah of Persia, Poole (£1,000)
06 – Rodney Fernandes – Cons Club, Chippenham (£750)
07 – Jonny Cheriyan – Old Bell, London (£500)
08 – Ian Hayman – Red Lion, Wigan (£400)
09 – Lisa Newboult – Lincolnshire Poacher, Lincoln (£300)
10 – Simon Nooranvary – WMC, Eastleigh (£200)
11 – Zoe James – White Lion, Nuneaton (£200)
12 – Gary Miell – RBL, Swanage (£200)
13 – Ryan Gilchrist – Legion, Gateshead (£150)
14 – James Mengell – Channings Hotel, Bristol (£150)
15 – Adam Bennett – Jonty Farmer, Derby (£150)
16 – Peter Baillie – Cupar Arms, Cupar (£100)
17 – Philip Sheridan – Clwb Llanrwst, Llandudno (£100)
18 – Ashley McKay – Broadheath Central FC, Altrincham (£100)
19 – David Gill – Old Bell, London (£100)
20 – Andy Graham – Woolpack, Haverhill (Split £100)
21 – Oliver Hakin – Fortesque Hotel, Plymouth (Split £100)
22 – Steven Sample – Duke of Wellington, Newcastle
23 – Luke Stockham – Tabard, Rotherham
24 – Steven Leslie – Peacock Inn, Shrewsbury
25 – Colin Broadhead – Butchers Arms, Warrington
26 – Steven Lyons – Maxwells, Loughborough
27 – Julian Varney – Greenhouse, Belper
28 – William Pettican – Chesterfield Arms, Burton-on-Trent
29 – Iain Bowers – White Hart, Lymington
30 – Clyde Trenchfield – Bear, Warley
31 – Heather Rowe – Old Walnut Tree, Southend
32 – John Godwin – Gilfach Bowling Club, Bargoed
33 – Luke McLeod – I-Que Cafe Bar, Kirkintilloch
34 – Steven Davies – Six in Hand, Cwmbran
35 – Ian Winton – Northern Bar, Aberdeen
36 – Damon Gisborne – Top of the World, Hemel Hempstead
37 – Kevin Mears – Snooty Fox, Crawley
38 – James Bend – Sunnyside, Nuneaton
39 – Ohioma Imoukhuede – Sun Inn, London
40 – Stuart McLean – North Star, Maidenhead
41 – John Bolton – Steelers Bar, Sheffield
42 – Ben Parkin – Greenhouse, Belper
43 – Jack Annand – Windsor, London
44 – Gareth Alyson – Greyhound, Blandford
45 – Sasho Popovski – Windsor, London
46 – Jagdeep Bains – Crown, Codsall
47 – Matthew Whalin – Old Ash Tree, Chatham
48 – Roel Thompson – Station, Kings Heath
49 – Paul Goater – Star & Garter, Portsmouth
50 – Alfredo Ayala – Victoria Inn, Hindley Green
51 – Daniel Field – Bagster House, Shepperton
52 – Paul Skinner – Crookham Street, Fleet
53 – Dawn Burnip – Hopetown & Whessoe WMC, Darlington
54 – Clive Evans – Old Lion Inn, Kidderminster
55 – Greg Winters – Chiseldon Sports Club, Swindon
56 – Phil Sturges – Lamb Inn, Worle
57 – Dominic Jackson – Priory, Tetbury
58 – Erlend Grieve – Stromness Golf Club, Orkney Islands
59 – Ray Wells – Swan, Brentwood
60 – Craig Rockett – Kimberworth Park, Rotherham
61 – Rosemarie Payne – White Hart, Beaconsfield
62 – Craig Warren – Parc Y Prior, Newport
63 – Richard Sharpe – Priory, Tetbury
64 – Robert Edwards – Old House at Home, Havant
65 – Neil Bamber – War Horse, Chorley
66 – Iain Followell – Little Harp, Clevedon
67 – Brian Baker – Swan, Bromsgrove
68 – Wayne Illingworth – Red Lion, Skipton
69 – Caroline Quinn – Green Dragon, Hucknall
70 – Jamie Taylor – Oadby Owl, Leicester
71 – Ashley Walker – Wharf Tavern, Solihull
72 – Mark Nicholson – Copper Coast, Redruth
73 – Richard Jowett – Alexander, Ashton-under-Lyne
74 – Mick Ashton – Sloop, Hull
75 – Brian Dickie – Glenpark Hotel, Ayr
76 – Ross Elliot – West End, Cleckheaton
77 – Jamie Moult – Cross Keys, Tean
78 – Woodrow Hughes – Bar No.9, Cheltenham
79 – Bradley Neporadnyi – Lincolnshire Poacher, Lincoln
80 – Mahesh Kanji – Crown, Croydon
81 – John Skudder – Healing District, Grimsby
82 – Lyndsey Scarisbrick – Farmers Arms, Moreton
83 – Antonio Rochira – Lord Palmerston, Walthamstow
84 – David Hamilton – Conservative Club, Coundon
85 – Colin Jones – Peacock Inn, Shrewsbury
86 – Donna O'Driscoll – Globe Inn, Buckfastleigh
87 – Tracy Savage – Acorn, Hinckley
88 – Andrei Popa – Baileys Court Inn, Bristol
89 – Alex Lo – Wootton WMC, Wootton
90 – Michael Ramm – Cock Crow, Hebburn
91 – Kevin Kearns – Turks Head, St Helens
92 – Garry Webb – Locomotive Inn, Ashford
93 – James Lynch – Jonty Farmer, Derby
94 – Chris Perrin – Hobsons Choice, Kettering
95 – Nathan Herbert – Haywain, St Ives
96 – Morgan Caldwell – Coulby Farm, Middlesbrough
97 – Adam Foster – War Horse, Chorley
98 – Jack Best – Pier House, St Austell
99 – Graham Wright – Old Engine House, Torquay
100 – Zak Brooks – Shawside, Oldham
101 – Andrew Lafferty – Snooty Fox, Crawley
102 – William Galloway – Mackintosh Hotel, Cardiff
103 – Eammon O'Boyle – Lade Inn, Callander
104 – Kevin Hunt – Old Engine House, Torquay
Sasho Popovski – Windsor, London