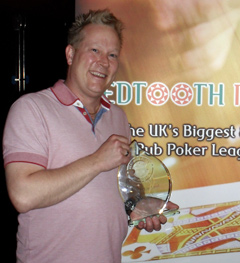 A record 202 players gathered at the Gala, Sol Central Casino in Northampton for the 2010/11 season one Regional Final.
It took almost 20 minutes before the first player, Alan Smith from the White Hart Hotel in Buckingham was eliminated. Alan received a very loud, but relieved, round of applause.
Early on players appeared to be taking few chances and by the break less than 20 had been knocked out. The early trickle steadily increased as the day progressed and as the blinds increased and by 7pm less than 20 players remained. We finished up with an all male final table, although Kerry Tature-Green from the Lumbertubs in Northampton only just missed out finishing a very creditable 10th place.
The final table was played at a furious pace thanks mainly to Darren Holden from the Collingtree in Northampton. Darren started the final table as the second largest stack with 195k, and in the space of an hour his stack experienced more highs and lows than the average weather forecast.
Nick Kirkley from the Ock 'n' Dough in Wellingborough was the unlucky player at the final table as he missed out on a place at next year's National Final by finishing in 9th place.
Darren's run of cards finally came to an end with him being eliminated in 4th place. Stuart Gorton from Apsley Village Club in Hemel Hempstead followed soon after in 3rd place, and it was left to Phil Knight from Kingsley Park WMC in Northampton and Paul Beard from the Old Punch House in Ware to battle it out for the title and the £500 first prize. Paul eventually won when a 6s on the river gave him two pairs. The full final hand was Paul's 6h7h vs Phil's Kd 4c on a board of 7s5cKs 10h 6s.
National Final Qualifiers & Cash Prize Winners
1st Paul Beard – Old Punch House, Ware
2nd Phil Knight – Kingsley Park WMC, Northampton
3rd Stuart Gorton – Apsley Village Club, Hemel Hempstead
4th Darren Holden – Collingtree, Northampton
5th Jamie Fountain – Rileys, Ipswich
6th Chris Tuzinkiewicz – Haywain, Burleigh Hill
7th Martin Nurton – Netherfield Tavern, Milton Keynes
8th Steve Primrose – Squirrels, Northampton