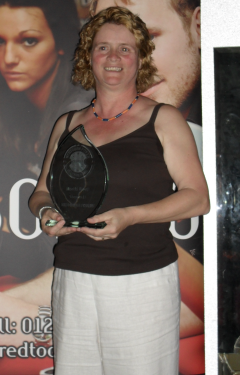 Players gathered at our new Regional Final venue, Manchester235 Casino in the wake of England's slightly disappointing World Cup result against the USA. There was no doubting that the players were all football fans with several nursing sore heads from the previous night.
Despite all the football talk it was soon time for the big kick off, the poker tournament started just after 2pm and it took almost 20 minutes for the deadlock to be broken, when Anthony Reel of the Carousel in Stockport became the first to head for an early bath.
At half time everyone enjoyed a local favourite, a Lancashire Hot Pot, and then it was time for the second half.
The final table was dominated by Carol Davison from the Dog & Partridge in Morecambe and Gareth Nixon from the Guild in Preston who had more chips than the other 8 players combined. With such a large advantage there was no danger of it being a long drawn out defensive battle in the early stages. Just missing out on cash prizes in 10th and 9th place respectively were John Levey of the Griffin in Bowdon and Joe Bowerman of the Sherwood in Fulwood. They were quickly followed by Marc Seddon from the Parkside Hotel in Manchester in 8th place and Graeme Tyrrell from the Red Lion Hotel in Bolton in 7th place.
Carol was involved in much of the action and was making good use of her chip advantage. After the early casualties play slowed down as the remaining players all accumulated chips. Steven Moore from the George in Morecambe finished a very creditable 6th, with Carl Rens from the Royal Hotel in Atherton coming home in 5th place. Our runner-up at this year's National Final Rick Makin from the George VI in Atherton could only manage 4th spot, but guaranteed himself another shot at the 2010/11 final along with the other five qualifiers.
3rd place went to Matt Ashton from the Thorn Inn in Warrington, with probably one of the best performances of the day having started the final table with only 25k in chips.
As expected the heads-up match was a battle between Carol and Gareth, and despite Gareth having some early success, Carol eventually emerged as a very worthy winner. Carol's winning hand was AdKc against Gareth's Qh2h with a board of 3s10c7d 5c 4c.
National Final Qualifiers & Cash Prize Winners
1st Carol Davison – Dog & Partridge, Morecambe
2nd Gareth Nixon – Guild, Preston
3rd Matt Ashton – Thorn Inn, Warrington
4th Rick Makin – George VI, Atherton
5th Carl Rens – Royal Hotel, Atherton
6th Steven Moore – George, Morecambe
7th Graeme Tyrrell – Red Lion, Bolton
8th Marc Seddon – Parkside Hotel, Manchester