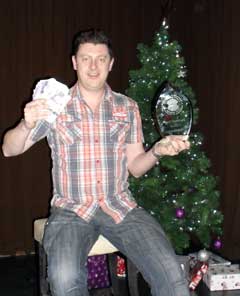 179 players gathered at the Alea Casino in Leeds for the season 3 Redtooth Regional Final on Sunday 12th December.

Play started promptly at 2.00pm with everyone determined not to be "first out", after nearly 40 minutes play, the dubious honour went to D McDonald from South Leeds Golf Club, who promptly went shopping in Leeds for the rest of the afternoon!
Throughout the afternoon as the blinds increased players continued to be eliminated and by the second break there were only 48 players remaining. At that point three pubs were still in contention for the team trophy.
By the time we reached the final table, one thing was already certain, The Barley Mow, Leeds were the first ever West Yorkshire Team Champions. The team comprising of John Carr (11th), Stuart Broadbent (15th) and Ray Bartram (22nd) finished with a total of 48 points.
The unlucky player to miss out on qualification for the National Final was Leslie Hines from the Oyster Catcher, Hull who was eliminated in 9th place.
Chris Thompson, also from the Oyster Catcher finished in 8th with Dan North from the Spinks Nest, Huddersfield out in 7th, Dan had gone into the final table with the chip lead, 190k.
By this time the final six had all tightened up their game and it seemed for a long time that the chips would be passed back and forth all evening without anyone being able to make a decisive move.
Dave Stone from the Black Bull, York changed gear and with some very aggressive betting eliminated Baz Fisher, Marine Hotel, Hornsea in 6th before accounting for fellow team mate Craig Batten (5th) and Robert Harper, The Old Ball, Leeds in 4th.
Dave Stone now had a commanding chip lead with almost three-quarters of the chips in play. Ian Wiffen of the Angel, Leeds and Darren Hansen, Wrose Bull Hotel, Shipley were both short stacked and facing a seemingly impossible situation. Indeed Darren had already been on the verge of being eliminated on several occassions.
Dave eased back on the aggression and was content to sit back and let Ian and Darren battle it out, eventually Darren who had already had an amazing run of "River card luck" knocked out Ian and we were left with heads-up between Ian and Darren.
Darren's run of luck continued and as time went by Dave's chip lead was gradually whittled away, finally both players were all in, Dave with Ah, Kc and Darren with Qd, Jd. The flop came down 6s, 2s and 5c the turn card was 10d and yes……. You guessed it Darren was saved by the river when Js gave him a hard fought win.
Cash Prize Winners
1st Darren Hanson – Wrose Bull Hotel, Shipley
2nd Dave Stone – Black Bull, York
3rd Ian Wiffen – Angel, Leeds
4th Robert Harper – Old Ball, Leeds
5th Craig Batten – Black Bull, York
6th Baz Fisher – Marine Hotel, Hornsea
7th Dan North – Spinks Nest, Huddersfield
8th Chris Thompson – Oyster Catcher, Hull
National Final Qualifiers
Darren Hanson
Dave Stone
Ian Wiffen
Robert Harper
Craig Batten
Baz Fisher
Dan North
Chris Thompson
Team Winners
Barley Mow, Leeds