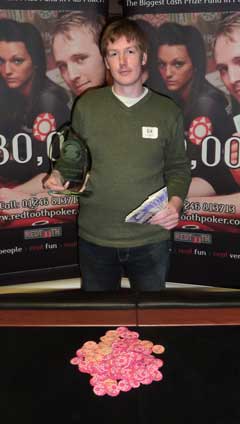 Sheffield United's Bramall Lane successfully hosted our South Yorkshire Regional Final. Eight players from today's tournament would reach the promise land of pub poker, the Redtooth Poker National Final at Europe's finest card room, Dusk Till Dawn. 167 players would also look to take their share of a free £1000 and not to mention the crystal glass trophy on offer for the winner.

Unfortunately for the likes of Fred Copley, Mark Chandler and John Williams, these hopes and dreams were shattered briefly after the start with early exits from all three as the cards and chips on all tables started sliding backwards and forwards across the felt vigorously. After the break this trend didn't slow as the quest to find a first South Yorkshire Team Event winner neared.
The Brownlow Arms couldn't cap their excellent year with a team event win as unfortunately none of their players could make the top 100 on the day. Earlier in the year the Brownlow Arms were crowned the UK's Best Pub Poker Night at the Great British Pub Awards. The two venues who were in contention however, were the Tut N Shive in Doncaster and the Stag in Sheffield. It took a stunning performance from the Tut N Shive trio to take down the team event with Carol Melton, Luke Bentley and Matthew Scholey all making the top 35 places.
Our final table of eight started in good spirits as each and every one of them would receive a cash prize and a pass into next year's spectacle. The tournament soon reached it's climax as the heads-up match came down to Matthew Scholey from the Tut N Shive in Doncaster and Claire Wild from the Stag in Sheffield. The final hand was a roller coaster event as Matthew's A9 held the lead pre-flop, Claire's 2h5h raced ahead on a 2d6h6c flop but a turned Ah gave Matthew the lead again. With the turn putting a second heart on board, this gave Claire a bunch of outs with the river still to come. But a brick Ts hit to give Matthew the title of Redtooth's South Yorkshire Regional Champion!
Cash Prize Winners
1st Matthew Scholey – Tut N Shive, Doncaster
2nd Claire Wild – Stag, Sheffield
3rd Phil Read – Woodseats S.C, Sheffield
4th Gavin McDermott – Red Lion, Sheffield
5th Lennon Geddes – Duke of Leeds, Sheffield
6th Nevin Spensley – Sheaf House, Sheffield
7th Ashley Knowles – Woodman, Rotherham
8th Dan Haynes – Drake House, Sheffield
National Final Qualifiers
Matthew Scholey
Claire Wild
Phil Read
Gavin McDermott
Lennon Geddes
Nevin Spensley
Ashley Knowles
Dan Haynes
Team Winners
Tut N Shive, Doncaster