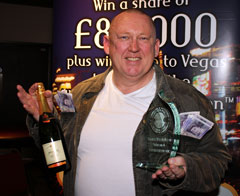 An absolutely phenomenal 98% turn out attended the South Yorkshire Regional Final as our newest venue, the G Casino at Sheffield, hosted a Redtooth event for the first time. Rumour has it that it was one of the best Regional Finals ever!
At 2pm the cards were in the air with 182 players hoping for National Final qualification and a share of £1,000. Concentration levels were sky high with this being the last chance to qualify for Nottingham.
After the two scheduled breaks we had the team event trophy to award. The reigning UK's Best Pub Poker Night, the Brownlow Arms in Newark, kept the awards coming as they secured the team event on this occasion. This time around they were represented by Adrian Morrey, Alic Keay and C.L. Morton.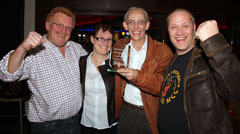 Alic was hoping to make it a Brownlow Arms double as he made the final table in good shape. Our South Yorkshire final table lined up as follows…
Seat 1: Leigh Ogley – 218,000
Seat 2: Bernard Milner – 57,000
Seat 3: Alic Keay – 109,000
Seat 4: Jason Taylor – 112,000
Seat 5: Carl Shipston – 141,000
Seat 6: Tony Eades – 76,000
Seat 7: Dave Critchley – 19,000
Seat 8: Zion Green – 31,000
Seat 9: Paul Howe – 42,000
Seat 10: Kevin Ward – 112,000
It was our second highest stack to bust first, Carl Shipston from the Sportsman in Sheffield. Carl was followed by Tony Eades from the Gate Inn in Rotherham who unfortunately bubbled the National Final seats and cash prizes. Paul Howe from the Wyvern in Sheffield and Kevin Ward from the Brentwood Hotel in Rotherham made the heads-up duel. Howe must of thought it was his day as he got the chips in the middle pre-flop as a ~70% favourite with A9 vs Ward's A7. This advantage was even greater as the flop and turn came 5TJ 6. But poker can be a cruel game as a 'seven from heaven' hit the river to KO Howe and give Kevin Ward the title of South Yorkshire champion.
Cash Prize Winners
1st Kevin Ward – Brentwood Hotel, Rotherham
2nd Paul Howe – Wyvern, Sheffield
3rd Bernard Milner – Recreation Club, South Heindley
4th Leigh Ogley – Millhouse, Worksop
5th Jason Taylor – Half Moon, Sheffield
6th Dave Critchley – Hammer & Pincers, Sheffield
7th Alic Keay – Brownlow Arms, Newark
8th Zion Green – Norton, Sheffield
National Final Qualifiers
Kevin Ward
Paul Howe
Bernard Milner
Leigh Ogley
Jason Taylor
Dave Critchley
Alic Keay
Zion Green
Team Winners
Brownlow Arms, Newark