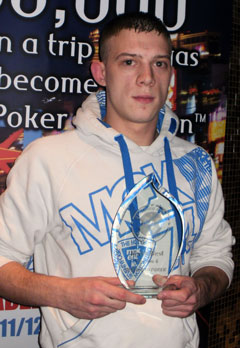 With a near record 93% attendance 120 players sat down at Manchester's 235 casino battling it out for the last five seats for the National Final on March 27th.
Unlucky Craig Schofield from the White Horse, Clitheroe made a very early exit and received the customary round of applause, coupled with a huge sigh of relief. This did not set the pattern for the day and by the time we broke for the buffet only another 5 players had been eliminated.
Unfortunately the Casino media system did not have ESPN and with Man City kicking off in the FA Cup quarter final at 5.30 there were a number of strange 'all-in' shouts around 5.00pm.
By the time we reached the final table at around 7.00pm we had clear winners in the Team competition, Kevin Boyes, Ben Dalton and Sue Cooper from the Plough Hotel, Preston. Remarkably this was the second win on the trot for the Plough Hotel team…..can they complete the hat-trick next season?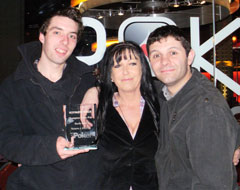 The final ten were;
Anthony Muscat – Riley's, Manchester – 48,000
Martin Smith – Guild, Preston – 39,000
Stephen Greenhalgh – Beaumont Arms, Bolton – 30,000
Ernie Wilkes-Wells – Haddon Hall Hotel, Manchester – 188,000
Mark Fisher – White Horse, Clitheroe – 51,000
Ben Dalton – Plough Hotel, Preston – 24,000
Barry Lock – Spring Inn, Rochdale – 67,000
Daniel Jones – Brown Cow, Eccles – 50,000
Wayne Campbell – Old Rectory, Stockport – 55,000
Alex Peel – Lord Nelson, Nelson – 90,000
Anthony (10th), Stephen (9th), Ben (8th) and Daniel (7th) were the unlucky players to miss out on qualification. Martin (6th) was the beneficiary as Barry who finished 3rd had already qualified from season 1. Wayne finished in 4th spot before a relatively quick heads up battle which was won when Alex's Kc Jh beat Ernie's 4c 7h with the cards on the table being 5d Qh 9c followed by 4h and Kd on the river.
Cash Prize Winners
1. Alex Peel – Lord Nelson, Nelson
2. Ernie Wilkes-Wells – Haddon Hall Hotel, Manchester
3. Barry Lock – Spring Inn, Rochdale
4. Wayne Campbell – Old Rectory, Stockport
5. Mark Fisher – White Horse, Clitheroe
6. Martin Smith – Guild, Preston
7. Daniel Jones – Brown Cow, Eccles
8. Ben Dalton – Plough Hotel, Preston
National Final Qualifiers
Alex Peel
Ernie Wilkes-Wells
Wayne Campbell
Mark Fisher
Martin Smith
Team Winners
Plough Hotel, Preston