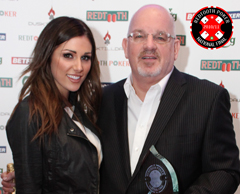 So, here we are again! The 2010/11 Redtooth Poker National Final, the pinnacle of pub poker and by far the greatest show Redtooth Poker has ever put on. For those lucky enough to be there it was a record breaking day as 404 players took their seats in the knowledge of being so close but yet so far to the summit of this 112,000 player mountain.  A mountain that even makes Everest seem like a mere bump in the road. At the end of a long gruelling day, only one player would reach the summit and leave the other 403 players thinking about what could have been. Let the game begin!
The doors opened at 9am and all of the players & their guests flooded into the ever impressive Dusk Till Dawn card room in Nottingham. A few still weary no doubt from the first ever Redtooth Poker Celebration Tournament the night before. A breakfast buffet was on hand to give the players a welcome boost of energy before the tournament was due to get under way.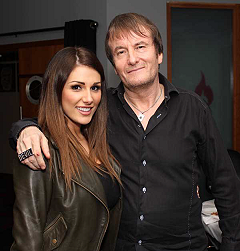 From 10am celebrity guests Lucy Pinder and Dave 'Devilfish' Ulliott were available for pre-tournament photos and autographs. Lucy would return for photos with our finalists and to present the eventual winner with £5,000 and a magnum of champagne.
At around 12:30 Simon "Aces" Trumper got play under way with his traditional 'shuffle up n deal', everyone fell silent until a sudden wave of chip shuffling swept the card room which would continue for the rest of the day. Within 15 minutes we had already lost our first player. Lee Hodgson from the Wrose Bull in Shipley earned the dubious honour this time around. Lee hit the rail to a huge cheer and a round of applause and was in for a little surprise as he was presented with a 'trophy' of a different kind, a bottle of wine in a wooden box emblazoned '1st out of the tournament'.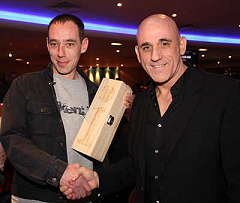 This triggered a host of other eliminations and we were on course for our quickest National Final ever. Amongst this group of players were some big favourites including the previous nights RPCT winner Anthony Van Eker and East London's Chris Hood who came into the National Final on the back of three consecutive Regional Final final tables.
Several breaks and blind levels later the pace was still frantic. Five tables soon became four, four tables soon became three, and in what seemed like no time at all, we had reached the money. The top 20 all received a cash prize with places 9th to 20th ranging from £50 to £200.  We were soon on the verge of our final table and as soon as Stephen Mear from the Wyggeston in Burton upon Trent had left us in a very respectable 9th place, the final table was set and they lined up as follows…
2010/11 Redtooth Poker National Final Final Table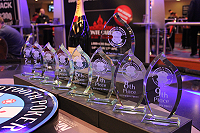 Seat 1: Henry Nathan – Red Lion, Wolverhampton (333,500)
Seat 2: Giles Brighton – Grey Horse, Elvington (144,000)
Seat 3: Lee Haskell – Village, Bournemouth (192,500)
Seat 4: David Ansell – Green Man, Potters Bar (464,000)
Seat 5: Chris Dixon – Miners Arms, Sheffield (182,000)
Seat 6: Andrew Taylor – Royal Inn, Atherton (140,500)
Seat 7: David Cheesman – Lord Nelson, Wakefield (199,500)
Seat 8: Alex Peel – Lord Nelson, Nelson (363,000)
David Ansell led the way from the start with a more than healthy chip stack. Redtooth rookie and young gun Alex Peel who is our current North West One regional champion was not far behind Ansell. Alex was hoping to make it two final wins in a row and propel himself into the big time and become Redtooth's youngest ever National Final champion. At the other end of the spectrum, Andrew Taylor was clinging on for dear life as our short stack.
The final table got under way and it was indeed Andrew who exited first in 8th place, Chris Dixon soon followed in 7th before Henry Nathan shoved with 4-2 hoping to steal some blinds and antes. Unfortunately for Henry, Ansell woke up with A-10 and swiftly made the call to eliminate the youngster. Giles Brighton would then follow in 5th with Alex Peel in 4th, leaving the two David's in contol whilst three handed. The up-hill struggle for Lee Haskell was a little too much as Cheesman put paid to his bid and gave himself a slight chip advantage at the heads-up stage.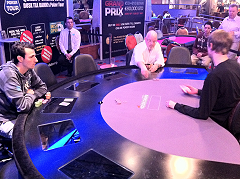 There was a short 10 minute break to gather their thoughts and fine tune their game plan before the heads-up match got underway. David Ansell chipped away at Cheesman's stack to give himself the chip lead. All of the chips then went into the middle pre-flop for the first time while heads-up as Ansell raised with A6 only to be re-raised all-in by Cheesman's 33. Ansell dwelled for a few minutes before counting the chips and announcing call. The rail raced to the edge to see what could have been the final hand of the day, only for Ansell's A6 to brick the board and double Cheesman's stack to just under 2million in chips. Ansell struggled to recover from this huge hit but thought he'd found a lifeline when his all-in with 77 was called by Cheesman's A2 off suit. A favourable flop and turn of 6hJsQs 3h delighted Team Ansell until an 'Ace From Space' struck the river to a huge cheer from the Lord Nelson faithful.
At a little after 11pm on Sunday 27th March 2011, David Cheesman from the Lord Nelson in Wakefield became the new UK Pub Poker Champion!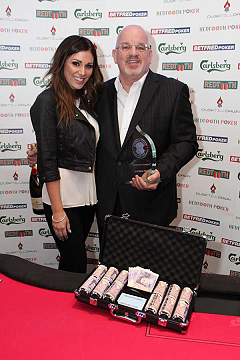 1st David Cheesman – £5,000.00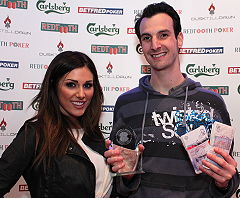 2nd David Ansell – £2,000.00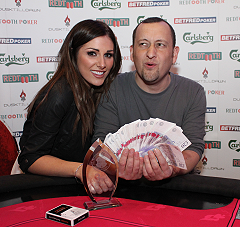 3rd Lee Haskell – £1,000.00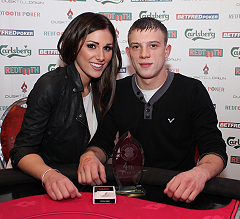 4th Alex Peel – £800.00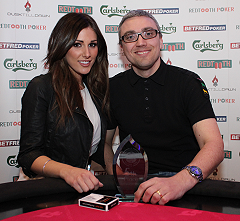 5th Giles Brighton – £600.00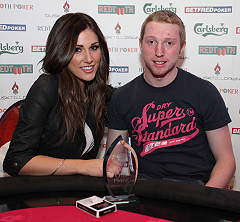 6th Nathan Henry – £500.00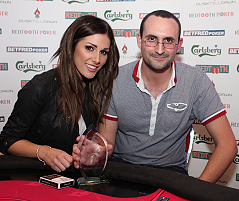 7th Chris Dixon – £400.00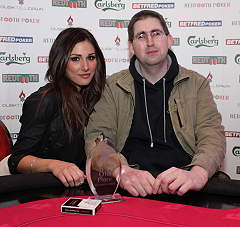 8th Andrew Taylor – £300.00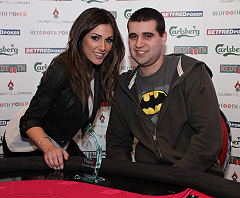 9th Stephen Mear – £200.00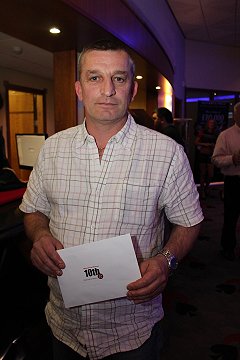 10th Anthony Keith Dobinson – £150.00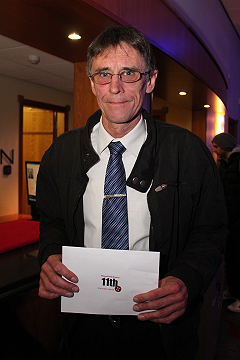 11th Lee Eacock – £150.00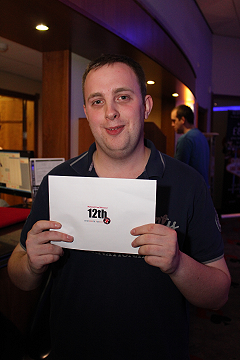 12th Chris Hiam – £150.00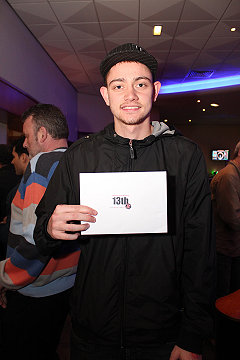 13th Sean Julien – £150.00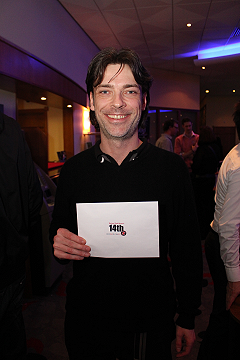 14th John Macniven – £100.00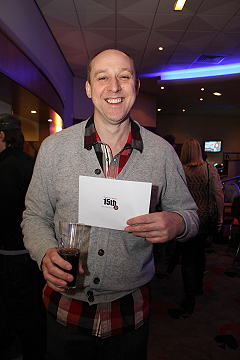 15th Darren Leary – £100.00
16th David Wood – £100.00
17th Richard Williams – £100.00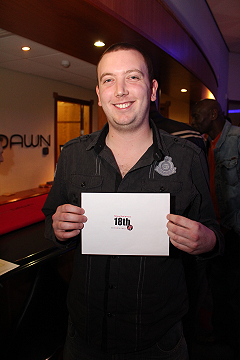 18th Shaun Jenkins – £100.00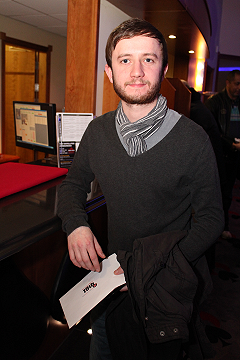 19th Michael Dunn – £50.00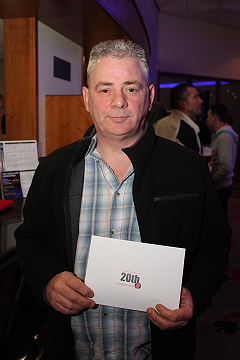 20th Kevin Ginger – £50.00
21
Ismail Niyazi
22
Mark Fisher
23
Charlie Mckernon
24
John Fisher
25
Teresa Wood
26
Nick Ince
27
Paul Elliott
28
Jamie Fountain
29
Emma Broughton
30
Chris Littlewood
31
Adam Pearson
32
Ian Walker
33
Michelle Webb
34
Paul Barnett
35
Matt Brown
36
Thomas Hynan
37
Richard Bennett
38
J Stuart Mitchell
39
Lee Lawrence
40
Denis Slack
41
Michael Clements
42
Barry Cougle
43
Christopher Tuzinkiewicz
44
Gary Purcell
45
Ian Wilkinson
46
Gurcharan Eddie Singh Bhakar
47
Ben Harvey
48
Kris Nelson
49
Aaron Wood
50
Alistair Keay
51
John Carroll
52
John Harkin
53
Craig Baxter
54
Francesca Pratt
55
Vilunder [kal] Singh
56
Simon Smith
57
Lee Smith
58
Charlie Blaxley
59
Rickie Silcock
60
Jimmy Carolin
61
David Foulger
62
Jackie Sherwood
63
David Horstead
64
John Maguire
65
Arthur Randell
66
Ian Trebicki
67
Lindsey Walsh
68
Samuel Parsons
69
Nathan Sutton
70
Nevin Spensley
71
Eric Burley
72
Arron Connolly
73
Paul Lewis
74
Alan Ball
75
Lynne Simpson
76
Joel Beardsmore
77
Michael Sidney
78
Colin Sutton
79
Phil Warne
80
Tel Sharman
81
Jolene Sinclair
82
Paul Higgins
83
Philip Hart
84
Niraj Dattani
85
Luke Pritchard
86
William Patey
87
Damian Ohara
88
Michael Hughes
89
Carl Sutton
90
David Stone
91
Antony Nelson
92
Tony Eades
93
Daniel Dagg
94
Paul Wilkes
95
Rob White
96
Lyndsey Hickton
97
Christopher Squire
98
James Melville
99
Lee Rainey
100
Ashley Knowles
101
Paul Harman
102
Antony Waite
103
Simon Tetlow
104
Mark Christie
105
Luke Preston
106
John Charlton
107
Gavin Earle
108
Dan North
109
Chris Peers
110
Ryan Langley
111
Phil Pendergest
112
Ben Tunnicliff
113
Wayne Campbell
114
Susan Kitchen
115
Nick Langhorn
116
Lewis Potter
117
Stuart Bellis
118
Craig Brewster
119
Steven Murphy
120
Lee Collier
121
Alan Summers
122
Mark Booth
123
Steven Primrose
124
James Macgillivray
125
Stephen Beard
126
Craig Batten
127
Daniel Borrett
128
Gary Snaith
129
Lee Sharkey
130
Paul Grey
131
Martin Hill
132
David Critchley
133
Craig Brown
134
Andy Keeley
135
Mark Stone
136
Mark Harvey
137
Kevin Boyle
138
Martin Smith
139
Robert Ward
140
Daniel Laidler
141
Lee Baker
142
Simon Baker
143
Craig Hughes
144
Peter Webb
145
Graham Gorton
146
Robert Foster
147
Gary Patrick
148
Robin Mcdonald
149
James Wintle
150
Stuart Maddison
151
Gary Rosser
152
Dave Campbell
153
Richard Tuzinkiewicz
154
Simon Hunter
155
Leonard Gardner
156
Richard Morrell
157
Andrew Tiffin
158
Martyn Abbott
159
Barry Lock
160
Jack Siddons
161
Andrew Clarke
162
Dave Waites
163
Matthew Scholey
164
Andrew Tyler
165
William Goldup
166
Leon Harris
167
Gary Pratt
168
James Thornton
169
Brent Allan
170
Ash Gray
171
Brian Hewison
172
Janet Page
173
Jonathan Clifford
174
Carl Slater
175
Camilla Robson
176
Matt Dews
177
Patrick Buchanan
178
Alex Lambrou
179
David Smith
180
David Gray
181
Julie Bone
182
Carol Davison
183
Darren Holden
184
Chris Whitehead
185
Donna Serpanchey
186
Leigh Moore
187
Kevin Berrie
188
Christian White
189
Alan Brown
190
Chris Lowe
191
Daniel Haynes
192
Anthony Webb
193
Paul Lacey
194
Jani Priyesh
195
Brian Foxall
196
Michael Baxter
197
Bryan Tackaberry
198
Dusan Porubsky
199
Philip Knight
200
Mark Streeter
201
Laurence Mcgarrigle
202
Paul Cox
203
Terry Finnigan
204
Paul Greenfield
205
James White
206
Paul Herrick
207
Danny Allen
208
Phil Read
209
Leigh Ogley
210
Ramzi Marouani
211
Jonny Robins
212
Sam Fletcher
213
John Nugent
214
Steven Lomax
215
Todd Keyte
216
Nicky Duggan
217
Helen Bishop
218
Lee Coates
219
Richard Bettison
220
Marie Merry
221
Darren Hanson
222
Luke Doyle
223
Richard Makin
224
Ben Whitty
225
Ross Brummell
226
Christopher Johnson
227
Glenn Perridge
228
Chris Doyle
229
Jamie Mcgrogan
230
Simon Gregg
231
Simon Smith
232
Paul Leake
233
Bernard Milner
234
Norman Higgins
235
David Jones
236
Darren Gallagher
237
James Buckingham
238
Rob Dorrington
239
Rob Purser
240
Joanne Din
241
Ray Marino
242
Tim Wharmby
243
Arron Richmond
244
Luke Bentley
245
Chris Donohue
246
Mark Searle
247
Jack Gleed
248
Inno Nigro
249
David Jones
250
Neil Simpson
251
Ian Kemp
252
Janet Tulloch
253
Michael Mccleverty
254
Katie Clarke
255
Martin Nurton
256
Joe Nolioth
257
Jamie Donovan
258
William Powell
259
Daniel White
260
Simon Parn
261
Ryan Green
262
Matthew Hardy
263
Sam Edmonds
264
Stuart Galbraith
265
Michael Dowler
266
David Dambrosio
267
Tom Nolan
268
Stephen Coopey
269
Dean Wright
270
Jonathan Berry
271
Daniel Hullock
272
Ross Milligan
273
Gareth Nixon
274
Rachel Hodson
275
Claude Bailey
276
Richard Oldroyd
277
Robin Rutter
278
Stuart Rowley
279
Caroline Quinn
280
Andr� Smith-edwards
281
Dean Hendry
282
Allan Youds
283
Stephen Byrne
284
Matthew Collier
285
Stephen Astley
286
Wayne Mccallum
287
Kevi Dooley
288
Kerry Tature-green
289
Andrew Whitehouse
290
Neil Jessop
291
Andrew Abernethy
292
Ian Wiffen
293
Adam Wilson
294
Richard Arnott
295
Max Younas
296
Ian Wood
297
Ian Blanche
298
Andrew Hirst
299
Ryan Brockway
300
Claire Wild
301
Karl Hyam
302
Dean Desa
303
Richard Amess
304
Lee Froud
305
Adam Chandler
306
Chris Thompson
307
Sreven Moore
308
Alan Haslam
309
Alan Clark
310
Adrian Christie
311
Mark Ridley
312
Mark Haslam
313
Richard Pickett
314
Chris Graham
315
Matthew Ashton
316
Gavin Mcdermott
317
Andy Adey
318
Thomas Naylor
319
Dave Stedman
320
Jez Guttridge
321
Ryan Norris
322
Vincent Lowe
323
Phillippe Mutty
324
Chris Powers
325
Lloyd Brook
326
Mark Williams
327
Paul Markham
328
Kevin Boyes
329
Martyn Young
330
William Weller
331
Andy Skutela
332
Andrew Baker
333
Darren Foster
334
Stephen Smith
335
Mark Pursey
336
Arun Sood
337
Chris Hood
338
Dave Crosby
339
Paul Howe
340
Jason Taylor
341
Oskars Bucs
342
David Symons
343
Darren Lee
344
Noel Scott
345
Danny Livett
346
Marc Stoneley
347
Gary Millard
348
Chris Baker
349
Sean Williams
350
Alan Stern
351
Richard Corfield
352
Ryan Wilton
353
Mark Hothersall
354
David Rakestrow
355
Lisa Greer
356
Paul Beard
357
Sandra Hardwick
358
Kevin Benton
359
Simon Barnes
360
Mal Storey
361
Dean Arnold
362
Michael Kelly
363
Martin Mabey
364
Steven Lamb
365
Luke Ruiz
366
Kevin Ward
367
Christopher Lomas
368
Dave Ryan
369
Elliott Murphy
370
Duncan Taylor
371
Anthony Van Eker
372
Aaron Shaw
373
Matthew Taylor
374
Chris Michalcewicz
375
Andrew Tomlinson
376
Stephen Farmer
377
Alistair Braidwood
378
Stuart Gorton
379
Paul Lewington
380
Richard Robins
381
Peter Mcmenemy
382
Michael Howard
383
Sidney Barratt
384
Kevin Mccabe
385
Robert Harper
386
Richard Hindmarsh
387
Allan Brett
388
Joanne Taylor
389
Karl Sillett
390
Zion Green
391
Nigel Sellers
392
Bessim Bessim
393
Martin Allen
394
Daniell Paterson
395
Aaron Caldeira
396
Chris Hyde
397
Helen Sharratt
398
James Bourne
399
John Garnett
400
Anthony Kearney
401
Matthew Stanley
402
Matthew Hill
403
Luke Midwinter
404
Lee Hodgson