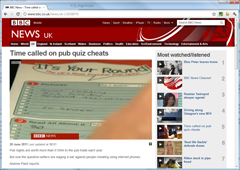 Some of our Poker Pubs also play quizzes from Redtooth  and we've been on BBC Breakfast news this morning as part of a report talking about how we try to make it harder for people to cheat with smartphones in pub quizzes.
BBC Breakfast also ran a breakfast quiz via Twitter during the show with some of our questions which went really well and was a trending topic for a while too! The video was in the top 10 most watched clips on the BBC website throughout the morning too.
It's been featured on BBC News 24 and also going out on Points West (S West Area) twice today too.

We also have a new game especially for smartphones coming soon – just how smart is your phone is the question we are going to be asking…
Here's the link – //www.bbc.co.uk/news/uk-13938979