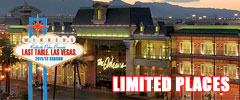 Want to join us with our final table and their guests to visit Las Vegas and be part of the Last Table, Las Vegas event? – Now extended to 7 days!!
Book a place now! – Click here.
We will leave the UK from Heathrow on Wed 9th May 2012 at 12.30pm arriving in Las Vegas later that day. The flight back leaves Las Vegas on Wed 16th May arriving back at Heathrow on the 17th May at 9.25am. When in Las Vegas we will be staying at The Orleans Casino, this award winning venue is located just off the famous strip and ideal for gaming and poker within it's large luxurious card room or at any of the strip hotels – it's also nearby Fremont Street home to Binion's Hall of Fame card room, where it's said to have all began…

The venue has over 12 restaurants, a 70 lane bowling alley, an 18 screen cinema, 850 seat theatre as well as comedy club, cabaret, lounge bars etc. It even has it's own Orleans Arena where events such as motocross, basketball and even rodeo take place. That's before you even venture out to the other venues and attractions that Las Vegas has to offer. The Redtooth Guest Package includes shared room, breakfast on each day, flights and transfers to the hotel and back. it's your responsibility to get to Heathrow and back home. Whilst in Las Vegas we will be hosting a Welcome Tournament exclusively for guests and players on the tour at The Orleans on the Thursday evening – free entry and great prizes. Then on the Sunday we will resume the Final Table of 9 from our National Final, guests will have VIP access at this event to see who becomes the UK Pub Poker Champion.
The cost for the trip is £950.00 per person.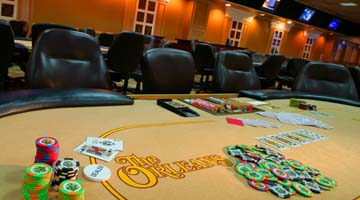 Purchasing this item will charge a non-refundable deposit of £150.00. The balance of £800 is payable in full by March 20th 2012. We will contact you to discuss how you want to do this, it can be via direct debit, credit card or cheque, either for the full amount or via instalments. There are only 30 place available at this rate. Once these are gone the price may increase due to increased flight costs.
WINNERS GUARANTEE – if you buy a space and are lucky enough to make the final table, don't worry we'll happily refund the cost of your booking!
Book a place now! – Click here.
Note: It is your responsibility to ensure you are able to travel to the USA and you will need to apply for an ESTA online in good time before the event. Full details will be sent to you. You will also need to arrange travel insurance.
Please note that you need to be 21 or over to take part in any Casino activity in Las Vegas.