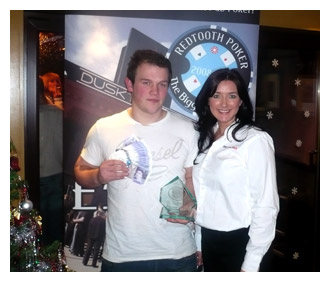 The Northern Bar, Aberdeen was again the host for the second ever Scottish Final. A 90% turnout was fantastic considering the snow that descended on Scotland over night.
David Ormand of the Post Office Bar, Dundee was the victorious champion beating Lawrie Stewart of the Royal Oak, Huntley. Lawrie was the chip leader going into the final table with an 8,400 lead on David.
The increase in Scottish Pubs joining the Redtooth Poker League during the past few weeks will make winning the Scottich Final a much more difficult task next March.
National Final Qualifiers:
David Ormond, Post Office Bar (1st)
Lawrie Stewart, Royal Oak (2nd)
Other Cash Prize Winners:
Ian Kirkland, Butchers Arms (3rd)
Bob Strange, Argyll Hotel (4th)
Alan Croy, Northern Bar (5th)
Steven Jeffrey, Butchers Arms (6th)
Gary Pratt, Northern Bar (7th)
Charlene Johnson, Northern Bar (8th)