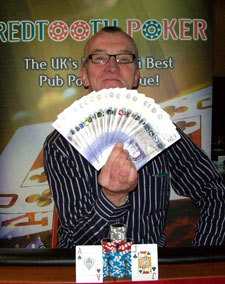 Neil McTaggart wins the Scotland Regional Final!
Players from all over Scotland gathered at the Queens Retreat, South Queensferry on Sunday 24th May to battle it out to become the Season 1 Redtooth Champion for Scotland.
Stuart Edby from the Northern Bar, Aberdeen had the dubious honour of being eliminated first, a three hundred mile round trip for one hand of cards.
Our on-line partners Betfred had for the first time ever given players the opportunity to have a bet on themselves in the final. Frank Coan, landlord of the Queens Retreat was one of the first to take up this option, placing bets on all of the qualifiers from the Queens Retreat, unfortunately his faith was not justified with Dave Merritt in 17th place being the best placed finisher.

After almost six hours play Neil McTaggart of Wintergills, Glasgow emerged as the visitor beating Chris Rattray from the Butchers Arms in Aberdeen into second place. Aldis Delic (Granary, Elgin) in 3rd place and Gareth Hockin (Chieftain Hotel, Inverness) in 4th place, also qualify for next years National Final at Dusk Till Dawn, Nottingham.