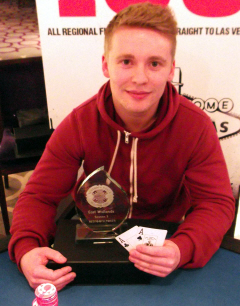 A cracking day in Nottingham ensued as the Vegas 100 buzz showed no signs of slowing. Redtooth Poker players came in their droves to become the latest East Midlander to join the Vegas 100 club. The usual cash prizes, semi final seats and crystal glass trophies were once again also up for grabs.
The wooden spoon went to Ashley Gillard from the Grove Pub in Newark who was the first player eliminated, just pipping last season's semi finalist Carl Dutton who also failed to last more than 3 hands!
An unusual swift buffet break meant we could distribute raffle prizes and get under way again. The team event went to the Bulls Head in Derby. Congratulations to Robert Woodcock, Richard Atkinson, James Hudson and Anthony Siddall.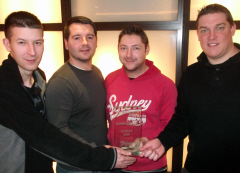 THE FINAL TABLE
Seat 1: Lee Eudale – Halcyon, Peterborough 94,000
Seat 2: Oliver Greenacre – Talbot Inn, Mansfield 135,000
Seat 3: Alistair Bowles – Boot & Shoe Inn, Newark 25,000
Seat 4: James Richards – Lamb & Flag, Lincoln 98,000
Seat 5: Jamie Manning – Paddock, Breadsall 270,000
Seat 6: Phil Gaskin – Tappers Harker, Nottingham 34,000
Seat 7: Steve Robinson – Davy Lamp, Ilkeston 96,000
Seat 8: Anthony Smith – Willow Tree, Nottingham 144,000
Seat 9: Jamie Bowman – Boston Central Racing Club, Boston 38,000
The final table got under way with Jamie Manning comfortably leading the way. Alistair Bowles was unsurprisingly eliminated first as he started the final with a very short stack. Alistair still makes the semi final in Sheffield though! 8th place was Ilkeston's Steve Robinson with Jamie Bowman and Anthony Smith in 7th and 6th respectively. Oliver Greenacre then went disappointingly in 5th place with Phil Gaskin in 4th. Jamie Manning then exited in 3rd to Quad 6's which left Lee Eudale and James Richards to contest the National Final seat. With the stacks fairly even the pendulum swung largely in James Richards favour as his turned full house won him the biggest pot of the day against Lee's rivered straight. James was then dealt A-A shortly after as Lee's K-T couldn't find that needed double up to get him back in the game. The final board ran out A-T-J-2-7. Congratulations James and we'll see you in Vegas!
VEGAS 100 QUALIFIER
1st James Richards – Lamb & Flag, Lincoln
SEMI FINAL QUALIFIERS & CASH PRIZE WINNERS
2nd Lee Eudale – Halcyon, Peterborough
3rd Jamie Manning – Paddock, Breadsall
4th Phil Gaskin – Tappers Harker, Nottingham
5th Oliver Greenacre – Talbot Inn, Mansfield
6th Anthony Smith – Willow Tree, Nottingham
7th Jamie Bowman – Boston Central Racing Club, Boston
8th Steve Robinson – Davy Lamp, Ilkeston
SEMI FINAL QUALIFIERS
9th Alistair Bowles – Boot & Shoe Inn, Newark