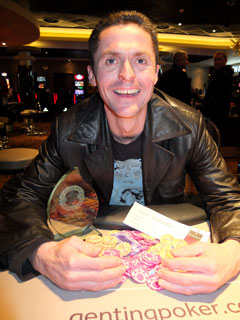 The Genting Club in Liverpool provided us with another North West national finalist in what is likely going to be the best represented region when we hit Las Vegas next year!
The outstanding venue was the Ellesmere Port Labour Club in Ellesmere Port who had two finalists on the day but was still unable to claim the double and provide us with an individual winner. Congratulations to John Kendle, James Dis, Steve Craven and Richard Wilson.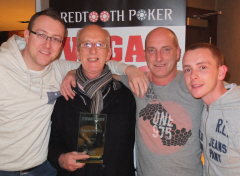 THE FINAL TABLE
Seat 1: Steve Jones – Ellesmere Port Conservative Club, Ellesmere Port 91,000
Seat 2: Rob Laverty – Park Hotel, Southport 8,000
Seat 3: Chris Price – Miners Arms, Prestatyn 180,000
Seat 4: James Dis – Ellesmere Port Labour Club, Ellesmere Port 88,000
Seat 5: Carl Goulding – English Rose, Liverpool 70,000
Seat 6: Andy Gill – Railway Inn, Port Sunlight 88,000
Seat 7: John Kendle – Ellesmere Port Labour Club, Ellesmere Port 28,000
Seat 8: Matt Potter – Disraeli's One, Ormskirk 52,000
Seat 9: Rob Grant – Wheatsheaf, Dunham on the Hill 28,000
Seat 10: Tarra Moore – Winnington Lodge, Northwich 34,000
Unsurprisingly our short stack, Rob Laverty, exited first in 10th place. He was soon followed by serial finalist Tarra Moore in 9th, Matt Potter in 8th, Carl Goulding in 7th, John Kindle in 6th, James Dis in 5th, Steve Jones in 4th and Chris Price in 3rd. The heads-up match was between Rob Grant and Andy Gill. The final hand saw Rob get it in with the worst hand, only to flop two pair and outdraw Andy to claim the latest national final package. Congratulations Rob Grant!
VEGAS 100 QUALIFIER
1st Rob Grant – Wheatsheaf, Dunham on the Hill
SEMI FINAL QUALIFIERS & CASH PRIZE WINNERS
2nd Andy Gill – Railway Inn, Port Sunlight
3rd Chris Price – Miners Arms, Prestatyn
4th Steve Jones – Ellesmere Port Conservative Club, Ellesmere Port
5th James Dis – Ellesmere Port Labour Club, Ellesmere Port
6th John Kendle – Ellesmere Port Labour Club, Ellesmere Port
CASH PRIZE WINNERS
7th Carl Goulding – English Rose, Liverpool
8th Matt Potter – Disraeli's One, Ormskirk