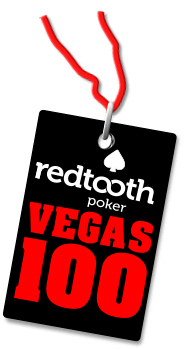 Redtooth Poker were back in Sheffield a week after hosting the sell out Sheffield leg of the Redtooth Poker Tour. This occasion was slightly different however as over £10,000's worth of prizes were awarded throughout the day. This could only be a Redtooth Poker UK National Final, the biggest amateur poker event in the UK, and the cost to the player? ZERO! Yes, it's that time of year again where we invite around 200 of the UK's top performing amateur poker players throughout the year and shower them with prizes with the top prize being the Vegas 100 trip.
For the few that don't yet know what Vegas 100 is all about, it is where we take 100 of our top performing players throughout the Redtooth Poker year to the gambling capital of the world, Las Vegas, for a trip they will never forget.
So we thought why not give 10 of these £1,000+ trips away in our UK National Final. We then thought why not do it twice a year? So down to business.
From 11am registration to the day's tournament began with every player receiving a FREE drink on Redtooth and vouchers for the complimentary buffet for every player and every guest. Mark 'The Beast' Labbett was also available for general chat and photo's before the tournament got underway. Mark also returned later in the day for more photo's and to congratulate all 10 of our newly qualified Vegas 100 members.
If 10 Vegas 100 trips, 10 Redtooth Poker hoodys, free drinks and buffet wasn't enough, there was also a prize draw on the day with the number one prize being a guest ticket on the Vegas 100 trip. For only £5 a ticket, this prize draw was fantastic value. The lucky winner? Well that was Christopher Wheatley who plays at the Raven in Birmingham. See you in Vegas Chris!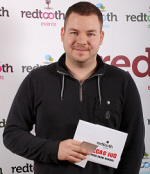 So with a little under 200 players starting the tournament a long and tense day was awaiting us. Unfortunately for Warren Carless it wasn't the long day he was hoping for as he busted out first to a huge cheer and round of applause. Better luck next time Warren!
Elimination after elimination followed as the tables slowly condensed until we had our final 20 players who were representing venues from all over the UK. Everyone was now guaranteed at least a Redtooth Poker hoody for their efforts with 10 of the 20 remaining players soon to be cracking open the champagne and contacting their poker families and loved ones with this fantastic news!
As we gradually got closer to the final 10 players, the eliminations went as follows.
20th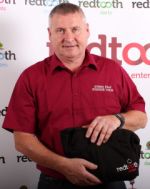 Clive Young
Queens Head, Oxford
19th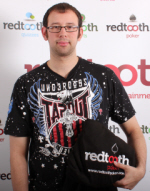 Ben Farrow
Halcyon, Peterborough
18th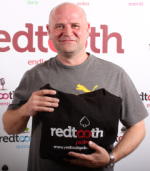 Carl Young
Rose & Crown, Coventry
17th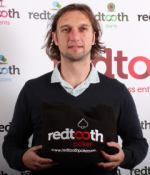 David Rowberry
New Inn, Worcester
16th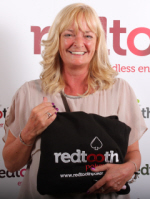 Caroline Quinn
Chequers, Hucknall
15th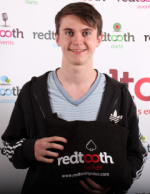 Andrew Oliver
Jaspers, Shifnal
14th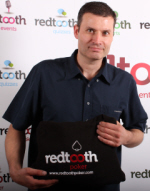 David Fletcher
Robin Hood, Jarrow
13th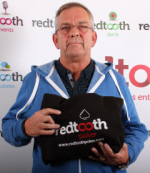 Denis Ware
1st Bowl, Chatham
12th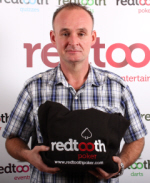 Paul Stevens
Ship Inn, Paignton
11th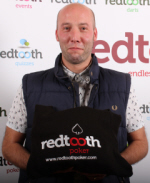 Sam Jones
Green Man, Potters Bar
Vegas 100 Qualifiers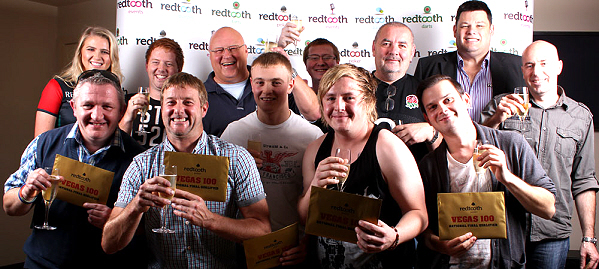 These are the 10 faces who will be joining Redtooth Poker for next year's Vegas 100 trip. Lets meet them!
Dave Ryan
Lever Club, Wirral
Paul Saunders
Wellington, Billingham
Martin Connelly
Railway Telegraph, Thornton Heath
Colin Clayton
Seven Woods, Warrington
Julian Varney
Green House, Belper
Alan White
Malt Shovel, Leeds
Greg Shiels
Northern Bar, Aberdeen
Sam Snape
Lion Hotel, Sandbach
Lee Hall
Brownlow Arms, Newark
Mick Lear
Royal British Legion, West Wickham
Don't forget there are still many many more chances to qualify for next year's Vegas 100 trip. The next member will be from our Stoke leg of the Redtooth Poker Tour. Tickets are still available, but selling fast, and the winner of the tournament will be member 51 of the Vegas 100 gang. Buy-in to the Redtooth Poker Tour here