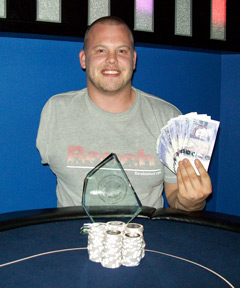 168 players representing 63 pubs gathered at the Gala Casino, Sol Central, Northampton for the Central England Regional Final.
An Enthusiastic band of supporters meant that well over 200 people were there to enjoy the day.
With this season's increase in starting chips it was anticipated that very few players would be eliminated in the early stages, however, just to prove us wrong John Lee of the Golden Hind in Cambridge went out after about 10 minutes with the first of many "bad beat" stories for the day – Johns 2 pair losing to a straight on the river.
Others soon followed, and "bad luck" seemed to be the main cause of elimination.
After five and half hours play it was finally down to the last table with Craig Bowler of the Burnt Oak, Milton Keynes a clear chip leader with 210k. Three players, Neale Stringfellow (Maltings, Skegby), David Utting (Empress, Cambridge) and Ben Greer (Old Punch House, Ware) were locked in joint second with 120k chips each.
Simon Chambers of the Stag, Great Doddington, who had joined the final table with only 30k chips was eliminated in 10th with Adrian Hall of Moulton WMC not far behind him, just missing out on that all important place in the National final and the cash prizes.
After almost another hour and a half hours play, Craig Bowler won the heads-up duel with Andrew Stewart of the Crown, Claydon when he rivered an inside straight. The final hand was Craig with Kh 6h against Andrew with 10h 7h, the flop dealt 8h 5c 9c, the turn came 2d and the river delivered 7d.
National Final Qualifiers & Cash Prize Winners
Criag Bowler – Burnt Oak, Milton Keynes – 1st
Andrew Stewart – Crown, Claydon – 2nd
Dean Lomax – Empress, Cambridge – 3rd
Ben Greer – Old Punch House, Ware – 4th
William Davies – Warren, Kettering – 5th
Neale Stringfellow – Maltings Social Club, Skegby – 6th
Danny Hyde – Roaring Donkey, Clacton on Sea – 7th
David Utting – Empress, Cambridge – 8th