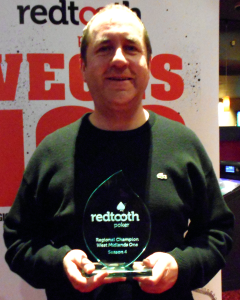 Results
1. David Beards – Albion, Wolverhampton
2. Greg Ford – Tividale Football Club, Tividale
3. Andy Leigh – Queslett, Streetly
4. Andrew Whitehouse – Claregate, Wolverhampton
5. Andy Hosking – Beggars Bush, Birmingham
6. Phil Hart – Drakes Drum, Birmingham
7. Martyn Abbott – Crown, Dudley
8. Scott Bailey – Seabridge, Newcastle-under-Lyme
The Grosvenor Casino in Walsall hosted the first of our West Midlands finals. With vacancies on the plane to Vegas running out, we knew an intense battle between the West Midlands finest was about commence.
The first prize to be awarded was the team event event trophy, this was won by the Drakes Drum in Birmingham. They were represented by Matthew Takaro, Simon Buxton, Mark Walters & Phil Hart.

Final Table Chip Counts
213,000 David Beards – Albion, Wolverhampton
145,000 Martyn Abbott – Crown, Dudley
117,000 Andy Hosking – Beggars Bush, Birmingham
91,000 Scott Bailey – Seabridge, Newcastle-under-Lyme
82,000 Rick Morgan – Roebuck, Wolverhampton
76,000 Phil Hart – Drakes Drum, Birmingham
74,000 Andy Leigh – Queslett, Streetly
56,000 Andrew Whitehouse – Claregate, Wolverhampton
54,000 Karl Harris – Merry Boys Inn, Wolverhampton
48,000 Greg Ford – Tividale Football Club, Tividale
Our final had a strong Wolverhampton & Birmingham showing with David Beards leading the way on 213,000 in chips. The first player eliminated was Rick Morgan in 10th place. Rick was soon followed by Karl Harris 9th, Scott Bailey 8th, Martyn Abbott 7th, Phil Hart 6th, Andy Hosking 4th & Andy Leigh 3rd. Our heads-up encounter saw big stack David Beards go up against Greg Ford for the trip to Las Vegas. The tournament came to a sudden end as David's A-7 held a slight advantage over Greg's K-9 pre-flop. The final board only strengthened David's lead as it ran off K-A-2-3-J. Congratulations David.