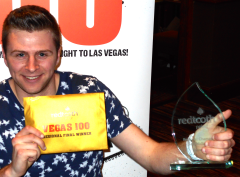 Results
1. Tyler Shilton – Bulls Head, Whetstone
2. Ian Appleton – Ravensdale Hotel, Mansfield
3. David Hunter – Birchwood Social Club, Lincoln
4. Mark Duignam – Chequers, Hucknall
5. Jonathan Burrell – Mundy Arms, Heanor
6. Aaron Green – Castle Barge, Newark
7. Scott Corbett – Cherry Tree, Melton Mowbray
8. John Hussey – Plough, Lincoln
Our East Midlands final was held at the Grosvenor Casino in Nottingham. A near perfect turnout sat down to battle for the last trip to Vegas from this region. The top performing team was also awarded on the day with a crystal glass trophy and £500 was awarded between the top 8. This took the total prize-pool for the day to over £1,500!
Our first award was the team event which had first time winners in the Hope & Anchor in Wirksworth. They were excellently represented by Charles Allen, Steven Murphy, Robert James & Megan Wood.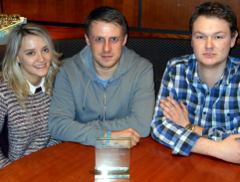 Final Table Chip Counts
150,000 Tyler Shilton – Bulls Head – Whetstone
110,000 David Hunter – Birchwood Social Club, Lincoln
103,000 Ian Appleton – Ravensdale Hotel, Mansfield
102,000 Mark Duignam – Chequers, Hucknall
95,000 Aaron Green – Castle Barge, Newark
72,000 Jonathan Burrell – Mundy Arms, Heanor
53,000 Scott Corbett – Cherry Tree, Melton Mowbray
51,000 John Hussey – Plough, Lincoln
43,000 Myles Duke – Grove Pub, Newark
Our 9 player final got under way with Tyler Shilton ahead of the pack on 150,000 chips and youngster Myles Duke the short stack on just 43,000. The final table went very much to form as Myles was eliminated first in 10th place and soon followed by John Hussey 8th, Scott Corbett 7th, Aaron Green 6th, Jonathan Burrell 5th, Mark Duignam 4th & David Hunter 3rd. Our heads-up encounter saw one of the comebacks of the century as Ian Appleton had around 700,000 of the chips in play with Tyler having a shade under 100,000. However, 3 double-ups later saw Tyler reverse the stacks and be on the verge of a trip to Las Vegas to everyone's disbelief. The final hand saw Tyler Shilton finish the job in his first ever regional final as his 6-8 kept it's advantage by the river against Ian's 6-7 on a 9-4-6-7-10 board. Congratulations Tyler, we'll see you in Las Vegas.