Exactly 12 months ago Redtooth Poker revolutionised pub poker by running the first ever Vegas 100, a concept taking the UKs top 100 poker players to the gambling capital of the world, Las Vegas, to find the best of the best. The trip as a whole was so successful we just had to do it all over again.
This is Vegas 100 2014.
At 12pm local time shuffle up and deal was announced as the cards hit the air. The atmosphere was tense as expected and it took over 90 minutes to see our first casualty, Simon Baxter from the Oystercatcher in Hull. Simons elimination triggered a handful more before the first break as play loosened up with the first break of many looming.
Every single elimination, like last year, was greeted with a big round of applause which goes to show the tremendous respect each player had for one another for reaching such a prestigious event.
About 8 hours after the Vegas 100 final kicked off we were down to the infamous bubble. With all short stacks tightening up it was always going to be inevitable that one player would eventually have to risk it all for a double up. After about 5 hands of bubble play the bubble was well and truly burst as Davie Marr from the Old Brewery in Alloa was eliminated in 21st place by Hugh O'Donnell as he decided the time was right to go big or go home.
Davie's elimination left us with the UKs top 20 pub poker players throughout the last 12 months, so here they are in position order.
The Top 20 Players
20th Mark Keith – Queen Victoria, Gosforth
19th Mick Lear – Royal British Legion, West Wickham
18th Ronald Rice – Rack N Cue, Dundee
17th Gary Cheadle – Sportsman, Sheffield
16th John Ashcroft – Gwerthoner Sports & Social Club, Gwerthoner
15th Adrian Fazakerley – Dusty Miller, Chesterfield
14th Michael Barnes – Rushden WMC, Rushden
13th Shaun Woodworth – Halfway House, Prenton
12th Matthew Fletcher – Hunt Lane Tavern, Oldham
11th Hugh O'Donnell – Tut N Shive, Doncaster
The final table was reached as the two tournament chip leaders locked horns with Hugh O'Donnell and Gareth Tomlinson getting their chips in pre-flop after multiple re-raises. Gareth flipped K-K to Hugh's 4-4 and the following board failed to help Hugh as our final 10 players breathed a huge sigh of relief, until they saw Gareth's chip stack at least!
The Final Table
768,000 Gareth Tomlinson – Trimpell Sports & Social Club, Morecambe
172,000 Flora Fawcett – Ebdon Arms, Wick St Lawrence
148,000 Paul Harrison – Mundy Arms, Heanor
147,000 Ryan Marshall – Pentwyn Arms, Cardiff
136,000 Cristian Bowler – Chestnut Tree, Andover
135,000 Paul Catto – Treacle Mine, Grays
126,000 Dave Ryan – Lever Club, Wirral
124,000 Stuart Weston – Cross Keys, York
90,000 Dave Beards – Albion, Wolverhampton
74,000 Lee Warman – Hollybush, Cardiff
With Gareth holding such a huge chip lead, the other 9 players were relatively short stacked so it didn't take long to lose our first finalist Christian Bowler in 10th place respectively.
Christian was soon followed by the days top performing lady Flora Fawcett in 9th place with Lee Warman in 8th place, Paul Catto 7th, Paul Harrison 6th, Dave Ryan 5th, Ryan Marshall 4th & Dave Beards 3rd.
With the heads-up encounter between Stuart Weston & Gareth Tomlinson looking fairly even chip wise we were expecting a long gruelling heads-up match, but how wrong were we! The very first hand was dealt and soon to follow was an all-in and a call as Stuart tabled Q-J to Gareths A-6 with Stuart at risk for only 300,000 less.
Unfortunately for Stuart 5 blanks hit the felt and after 11 hours & 30 minutes of hot poker action the rail erupted with cheers as Gareth Tomlinson was crowned the new UK Pub Poker Champion!
Congratulations Gareth!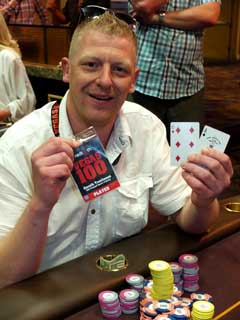 Photo Gallery
Finishing Positions
1st: Gareth Tomlinson – Trimpell Sports & Social Club, Morecambe
2nd: Stuart Weston – Cross Keys, York
3rd: Dave Beards – Albion, Wolverhampton
4th: Ryan Marshall – Pentwyn Arms, Cardiff
5th: Dave Ryan – Lever Club, Wirral
6th: Paul Harrison – Mundy Arms, Heanor
7th: Paul Catto – Treacle Mine, Grays
8th: Lee Warman – Hollybush, Cardiff
9th: Flora Fawcett – Ebdon Arms, Wick St Lawrence
10th: Christian Bowler – Chestnut Tree, Andover
11th: Hugh O'Donnell – Tut N Shive, Doncaster
12th: Matthew Fletcher – Hunt Lane Tavern, Oldham
13th: Shaun Woodworth – Halfway House, Prenton
14th: Michael Barnes – Rushden Working Mens Club, Rushden
15th: Adrian Fazackerley – Dusty Miller, Barlborough
16th: John Ashcroft – Gwerthoner Sports & Social Club, Gwerthoner
17th: Gary Cheadle – Sportsman, Sheffield
18th: Ronald Rice – Rack & Cue, Dundee
19th: Mick Lear – Royal British Legion, West Wickham
20th: Mark Keith – Queen Victoria, Gosforth
21st: David Marr – Old Brewery, Alloa
22nd: Andrew Hiew – Sloop, Newton Abbot
23rd: Colin Clayton – Seven Woods, Warrington
24th: Scott Ryan – Lever Club, Wirral
25th: Ben Naylor – Yates, Woking
26th: Peter Hart – Tyacks, Cambourne
27th: Andrew Salisbury-Newman – Stags Head, Great Doddington
28th: Alan White – Malt Shovel, Leeds
29th: Martin Taylor – Red Lion, Poole
30th: Lee Hall – Brownlow Arms, Newark
31st: John Attwater – Mudeford Working Mens Club, Mudeford
32nd: Julian Varney – Green House, Belper
33rd: Sam Smith – Patriots Arms, Chiseldon
34th: David Scarrott – Royal Oak, Stevenage
35th: Tracey Thornton – Pike & Musket, Gloucester
36th: William Perry – Wheatsheaf, Rushden
37th: Lewis Buckler – Potters Bar, Stoke-on-Trent
38th: Karl Smith – Tividale Football Club, Tividale
39th: Les Mayne – Myrtle Grove, Risca
40th: Paul Wilkes – Woolpack, Telford
41st: Craig McLuckie – Old Brewery, Alloa
42nd: Richard Arnott – Imperial Bar, Cupar
43rd: Chanyaporn Sriaran – Victory Pub, Leeds
44th: Chris Yewdall – Park, Southport
45th: Christine Thompson – Oyster Catcher, Hull
46th: James Fairbotham – Mason Arms, Solihull
47th: Steve Lewis – South Beach Residence, Blyth
48th: Merion Harries – Man of Gwent, Newport
49th: Gary Campsie – Elphinstone Arms, Dalkeith
50th: Phil Hart – Drakes Drum, Birmingham
51st: Louise Holdaway – Zoar Inn, Forfar
52nd: Ashleigh Robins – Old Clarence, Coventry
53rd: Audrey Sheardown – Gamekeeper, Scotter
54th: David Booth – Crosspool Tavern, Sheffield
55th: Mariel Klimis – Oxfford, Macclesfield
56th: David Harris – Boot & Shoe, Flintham
57th: Mark Wignell – Mosborough Working Mens Club, Sheffield
58th: Thomas Heslop – Malt Shovel, Leeds
59th: Paul Saunders – Wellington Arms, Billingham
60th: Andrew Welsh – Black Bear Hotel, Wareham
61st: David McHugh – Lord Palmerston, Walthamstow
62nd: Neil Sutcliffe – Old Swans Conservative Club, Liverpool
63rd: Peter Britton – DL5, Newton Aycliffe
64th: Matthew Fishburn – Durham Ox, Northallerton
65th: James Kearney – Phantom Coach, Coventry
66th: Julian Sykes – Golden Hind, Cambridge
67th: Akbar Ghani – Halcyon, Peterborough
68th: Adrian Dearden – Cottage Loaf, Wirral
69th: Lee Collins – Journeys End, Birmingham
70th: Lynn Mackintosh – Scotia Bar, Aberdeen
71st: Keith Pickersgill – Players Lounge, Sheffield
72nd: Nicholas Reynolds – Robin Hood, Tunbridge Wells
73rd: Daniell Paterson – Scotia Bar, Aberdeen
74th: Glenn Pinch – Globe, Chelmsford
75th: Greg Shiels – Northern Bar, Aberdeen
76th: Lee Hunter – Hamworthy Labour Club, Hamworthy
77th: Victor Foster – George, Bexley
78th: Jamie Richards – King & Miller, Retford
79th: Andrew Moores – New Club, Wheatley
80th: Martin Connelly – Railway Telegraph, Thornton Heath
81st: Michael Carroll – Hasland Working Mens Club, Chesterfield
82nd: Dominic Ford – Park, Southport
83rd: Jonathan Turns – Duke of Cornwall, Ivybridge
84th: Andrew Walkden – Digswell Park Sports Association, Welwyn Garden City
85th: Geoff Coy – Mackworth Hotel, Derby
86th: Tyler Shilton – Bulls Head, Whetstone
87th: Maria Edwards – Railway, Hinkley
88th: Dragan Vukadinovic – Assembly Rooms, Epsom
89th: Hayley Ratcliffe – Griffin, Carlisle
90th: Rob Allen – Narrow Boat, Newbury
91st: George Radbourne – Narrow Boat, Newbury
92nd: Sam Snape – Lion Hotel, Sandbach
93rd: Patrick Buchanan – Hunters Moon, Birmingham
94th: Richard Fitzsimons – Old Swan Conservative Club, Liverpool
95th: Adam Hinchliffe – Fox & Goose, Lancaster
96th: Simon Baxter – Oyster Catcher, Hull
English | Scottish | Welsh