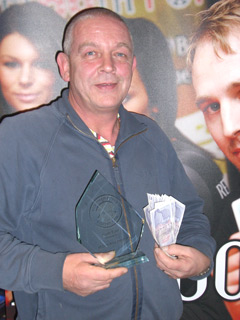 The Stanley Circus Casino in Newcastle hosted the season 3 North East Regional Final as 151 players were in attendance.
There was plenty of tension as the final table approached as Thomas Alderson, who already has a National Final place was on for another final table appearance giving other players hope of qualification without making the final. Unfortuantly Tom was to eventually miss out on the final table which meant only 7 finalists would qualify for Nottingham. It was a final table to remember for 2 of our North East pubs, as the Duke of Wellington in Kenton and the New Seaham Conservative Club in Seaham were both represented by 2 finalists. Tony Walker and Phil Wright for the Duke of Wellington and Jonny Crangle and Edward McGee for the New Seaham Conservative Club. Martin Pessmore from the Greyhorse in Penshaw started the final table as the chip leader but ended up as the first player to be eliminated, even before the short stack Edward McGee who soon followed him in 7th place. Ben Sutcliffe from the Eagle in Stockton went on to take down the North East Regional Final as he defeated Jonny Crangle heads-up to take the trophy and £500. Jonny can count himself slightly unlucky as his A2 was outdrawn by Ben's 109 on a 47Q 9 8 board.
A special mention goes out to finalist Tony Walker who qualified for the Regional Final for the 3rd time but hasn't previously been able to attend. Unfortuantly for Tony, the 09/10 National Final is the day after he goes holiday but he may still cancel for a shot at becoming the UK Pub Poker Champion 09/10. Congratulations to all qualifiers.
National Final Qualifiers And Cash Prize Winners
1st Ben Sutcliffe – Eagle, Stockton-On-Tees
2nd Jonny Crangle – New Seaham Conservative Club, Seaham
3rd Tony Walker – Duke of Wellington, Kenton
4th Niki Slee – Tavern, Middlesborough
5th Phil Wright – Duke of Wellington, Kenton
6th Paul Bryant – Met, Whitby
7th Edward McGee – New Seaham Conservative Club, Seaham
8th Martin Pessmore – Greyhorse, Penshaw