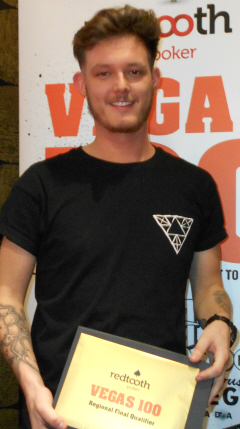 Results
1. Jonny Lockley – Spring Inn, Rochdale
2. Anthony Quinn – Victoria Tavern, Barrow
3. Andrew Taylor – Royal Hotel, Atherton
4. Lee Saunders – Red Lion Hotel, Bolton
5. Danny Meers – Old Leyland Gates, Leyland
6. Katie Harkin – Beaumont Arms, Bolton
7. Manuel Atkinson – Oxfford, Macclesfield
8. Stuart Rotherford – Lord Eldon, Knutsford
9 Phil Cott – Brown Cow, Eccles
Manchester's fabulous Grosvenor Casino on Bury New Road hosted our North West regional final as one player would be leaving with a golden ticket into our Vegas 100 National Final in May. £500 in cash was also up for grabs along with a trophy for the best represented venue.
The team trophy was awarded to the Golden Eagle in Blackpool for the first time. Well done to Christine Nuttall, Brian Johnson, John Bethel & Connor Heels.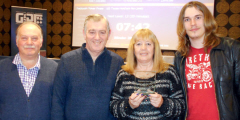 Final Table Chip Stacks
1. Anthony Quinn – 279,000
2. Danny Meers – 145,000
3. Lee Saunders – 79,000
4. Jonny Lockley – 60,000
5. Stuart Rotherford – 55,000
6. Andrew Taylor – 53,000
7. Manuel Atkinson – 48,000
8. Katie Harkin – 45,000
9. Phil Cott – 25,000
A final table of 10 got under way with Anthony Quinn holding a monstrous chip lead on 279,000 with Phil Cott on just 25,000. However, this chip lead was only good for 2nd place as Jonny Lockley pipped Anthony to the golden ticket with his K-K dominating Anthony's K-Q pre-flop. A board of Q-4-J-3-J only went on to confirm Jonny as the new North West regional champion!