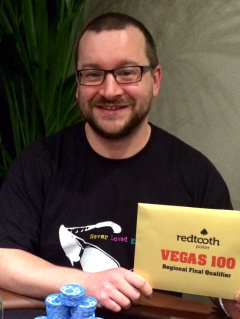 Results
1. Chris Langford – Travellers Joy, Rayleigh
2. Denis Ware – Tiger Moth, Chatham
3. Martin Ramm – Star Meadow Sports Club, Gillingham
4. Suzanne Neville – Robin Hood, Tunbridge Wells
5. Michelle Minshull – We Anchor in Hope, Bexley
6. Damon Delaney – St John's Deaf Club, London
7. Bill Johnson – Windsor, Fenchurch
8. Darren Dulieu – Mecca Bingo, Southend
9. Steve Garrett – William Camden, Bexleyheath
10. Gerry Sheekey – Canvey Island Conservative Club, Canvey Island
The East side of London entered the popular Poker Room, part of the Vic Casino in London. A big turnout were all after the day's top prize, a seat into VEGAS100 in just a few months time.
The first prize awarded was the team event trophy which went to the best represented venue. Congratulations to the Star Meadow Sports Club in Gillingham who were represented by Chris Keogh, Rachel Willett, Martin Ramm & Dave Rose.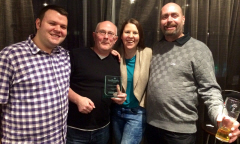 Final Table Chip Stacks
1. Michelle Minshull – 154,000
2. Darren Dulieu – 149,000
3. Denis Ware – 132,000
4. Bill Johnson – 132,000
5. Martin Ramm – 131,000
6. Suzanne Neville – 86,000
7. Chris Langford – 81,000
8. Steve Garrett – 72,000
9. Gerry Sheekey – 58,000
10. Damon Delaney – 29,000
In a very evenly stacked final table, Michelle Minshull led the field on 154,000 chips. Damon Delaney held the short stack with just 29,000 in chips. After a couple of hours play we were down to our final two players in a shootout for VEGAS100 qualification. Chris Langford matched up against Denis Ware with £200 going to the runner-up. The tournament came to an end in Chris's favour as his A-6 proved too strong for Denis's J-8 on a 10-A-J-7-Q board. Congratulations Chris and good luck in Vegas.