WEEK 13 WINNER: Addickted4ever
NO. OF PLAYERS: 96
TOP 10
| Position | Name | Games | Points |
| --- | --- | --- | --- |
| 1 | jonberry1 | 13 | 420 |
| 2 | moochers | 12 | 340 |
| 3 | pigginsharon | 13 | 330 |
| 4 | honda220 | 13 | 310 |
| 5 | kingsbridgebry | 12 | 300 |
| 6 | bugse | 13 | 290 |
| 7 | JayjayJacks | 13 | 270 |
| 8 | 1982ThePin | 13 | 260 |
| 9 | Bu11etboy | 13 | 260 |
| 10 | beat11 | 10 | 250 |
FOR THE LEAGUE TABLE IN FULL, PLEASE CLICK ON THE PICTURE BELOW.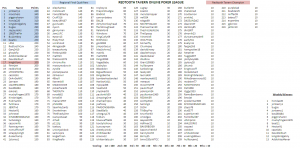 Betfred are kindly offering $600 in GUARANTEED prize money to our members EVERY week, to try and claim your share simply click here to download Betfred and to create an account! All Redtooth tournaments can be found in the poker client under 'Scheduled' > 'Affiliates'. Good luck!
To go straight to our password area click here.
FOR OUR ONLINE TOURNAMENT SCHEDULE IN FULL, CLICK HERE