Please note: Pub qualification comes first so if any of the top 8 qualify through their pub then we will take 3rd/4th etc. from the play-off game.
From next season the Redtooth Tavern will have a brand new home! From May 6th all of our online tournaments will be moving over to Genting Poker which can be downloaded by clicking HERE!!!
The play-off game for this season will stay on BetFred and will be played on May 6th at 8pm.
WEEK 13 WINNER: 49boll
NO. OF PLAYERS: 154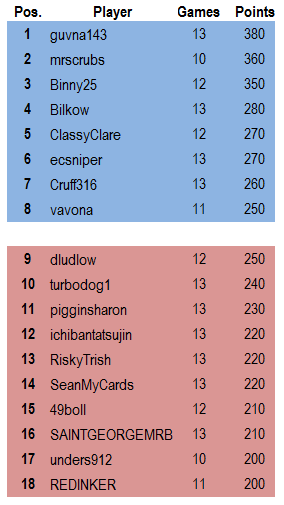 FOR THE LEAGUE TABLE IN FULL, PLEASE CLICK ON THE PICTURE BELOW.
To go straight to our password area for the Redtooth Tavern click here
FOR OUR ONLINE TOURNAMENT SCHEDULE IN FULL, CLICK HERE