So here we are again, VEGAS 100 2015! This is the brand's 3rd year in operation and once again it has got bigger and better than previous years! We still have 100 of the UK's finest poker players but in addition we now have a £5,000 sponsorship deal for the winner on top of the usual £12,000 total prize-pool which is paid to the top 20 players. With a record 211 people on the trip, does this fantastic concept have any limits?The week began as always with a tournament for every player on trip. On this occasion it was a WSOP ualifier for 8 seats into the WSOP Colossus! In total Redtooth Poker had over a dozen representatives in the WSOP covering a couple of tournaments altogether!
To name a few there was Terry Prett who played the $1,000 Turbo, Steven Wilkie, Dave Brewer, Shaun Blackshaw & Darren
Mapley amongst others who played the WSOP Colossus. After two days of hard graft we had 2 players make the money in the Colossus so congratulations to Steven Wilkie andDarren Mapley who both cashed for a little under $2,000.
Moving onto the VEGAS 100 final where 100 of the finest players from around the UK battled for the day's top prize of £5,000 cash and a lucrative £5,000 sponsorship package.
The atmosphere was electric as the UK's finest pub poker playes sat down to fight for the title of UK Pub Poker Champion. It took around 90 minutes to lose our first player, Craig O'Connor from the Wheatsheaf in Rushden. He was unfortunate to be knocked out with 3 turned flushes on the table! Craig's QJhh was up against Phil Clayton's AKhh!!


After 8 hours of play we were down to the money bubble as 21st place would be the final place to exit empty handed. The unlucky player this year was Scotland's Brian Tannerhill from the Easthouses Miners Welfare in Dalkeith.
Brian's elimination brought us down to our final 20 players which included the defending UK Pub Poker Champion Gareth Tomlinson.
Gareth restarted the final 2 tables on 92,000, 9th in chips! We also had 4 Scottish players and 3 Welsh players in our last 20. The final 20 players finished as follows…

20th place – Steve Allen (£50)

19th place – Shane Hall (£50)

18th place – Liam Hamilton (£100)

17th place – Julian Varney (£100)

16th place – Andrew Harper (£100)

15th place – Laura Duff (£100)

14th place – Alex Kryjom (£100)

13th place – Graham Kent (£150)

12th place – Jack Evans (£150)

11th place – Jack Bradley (£150)
Jack's elimination in 11th place brought us our VEGAS 100 final table! Going into the final, Mark Henderson from Aberdeen led the way on 391k with Gareth, the defending champion, still hanging on with 65k. So without further ado, our final 10 lined up as follows…
Seat 1: David Wall 359,000
Seat 2: Terry Prett 80,000
Seat 3: Stephen Emery 115,000
Seat 4: Scott Hale 114,000
Seat 5: Jonathan Lockley 183,000
Seat 6: Andrew Maher 220,000
Seat 7: Daniel Lane 207,000
Seat 8: Gordon Cuthill 186,000
Seat 9: Gareth Tomlinson 65,000
Seat 10: Mark Henderson 391,000
Congratulations to our final 10 players…

10th place – Gareth Tomlinson (£150)

9th place – Terry Prett (£200)

8th place – Scott Hale (£300)

7th place – Stephen Emery (£400)

6th place – Daniel Lane (£500)

5th place – Jonathan Lockley (£600)

4th place – Mark Henderson (£800)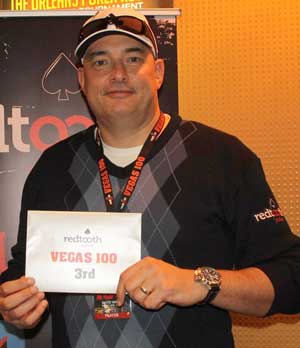 3rd place – David Wall (£1,000)

2nd place – Andrew Maher (£2,000)

UK PUB POKER CHAMPION – GORDON CUTHILL (£5,000 + £5,000 Sponsorship Package)
Player Interviews for the Final 10 Positions

Finishing Positions
1st Gordon Cuthill – Ceres Inn, Ceres
2nd Andrew Maher – King Harold, Harold Wood
3rd David Wall – Black Lion, Cardiff
4th Mark Henderson – Wig, Aberdeen
5th Jonathan Lockley – Spring Inn, Rochdale
6th Daniel Lane – Shaw Farm, South Woodham Ferrers
7th Stephen Emery – Sneyd Arms, Stoke-on-Trent
8th Scott Hale – Village Inn, Walthamstow
9th Terry Prett – View, Croydon
10th Gareth Tomlinson – Trimpell Sports & Social Club, Morecambe
11th Jack Bradley – Farmers Arms, Moreton
12th Jack Evans – Two Brewers, Brackla
13th Graham Kent – Cross Keys, York
14th Alex Kryjom – Crows Nest, Cwmbran
15th Laura Duff – Ceres Inn, Ceres
16th Andrew Harper – Old Brewery, Alloa
17th Julian Varney – Green House, Belper
18th Liam Hamilton – Wheatsheaf, Darlington
19th Shane Hall – Kingsley Park Working Mens Club, Northampton
20th Steve Allen – Saxon Inn, Southampton
21st Brian Tannerhill – Easthouses Miners Welfare, Dalkeith
22nd Fiona Mackintosh – Zoar Inn, Forfar
23rd Wayne Maunder – Rose & Crown, Coventry
24th Carol Flavell – White Lion, Buckley
25th Mike Yeo – George VI, Atherton
26th Graham Godding – Old House at Home, Havant
27th Alister Watt – Chaddlewood Inn, Plymouth
28th David McHugh – Lord Palmerston, Walthamstow
29th Martin Wilson – Lonsdale Hotel, Newcastle
30th Steven Smart – Imperial Bar, Cupar
31st Chris Langford – Travellers Joy, Rayleigh
32nd John Baron – Glen, Leicester
33rd Daniel White – Anchor Inn, Chesterfield
34th Phillip Meadows – Park Hotel, Southport
35th George Radbourne – Narrow Boat, Newbury
36th Kamran Nadim – B52's, Horsham
37th Paul Taylor – Rovers Tye, Colchester
38th David Kendrick – Willows, Upton
39th Gerard Boyd – Sun Inn, Newcastle
40th Philip Whitehouse – Crows Nest, Nuneaton
41st Joe Underwood – Woodman, Banstead
42nd Adrian Clark – Rushden Working Mens Club, Rushden
43rd Marc Platt – Podger, Leeds
44th Ian Quinn – Alpine, Rotherham
45th Steve Hosking – Chaddlewood Inn, Plymouth
46th Phil Clayton – Thatched House, Poulton le Fylde
47th Will Park – Threemilestone Club, Truro
48th Mark Tansey – Oak & Acorn, Derby
49th Michael Bowler – Copcut Elm, Droitwich
50th Michael Clark – Mosborough Miners Welfare, Sheffield
51st Ian McKenzie – Owington Farm, Billington
52nd Chris Andrews – Two Brothers, Southampton
53rd Gareth Coleman – Edgcumbe Hotel, Yelverton
54th Martin Bremner – Green Dragon, Hucknall
55th Paul Lacey – Glovers Needle, Worcester
56th Caroline Quinn – Green Dragon, Hucknall
57th Francis Hutchins – View, Croydon
58th Craig Gregory – Gypsy Queen, Sheffield
59th Ricardo Luis Franco De Caldeira – Trawl Inn, Grimsby
60th Luke Jones – Peacock Inn, Shrewsbury
61st Patrick Walcott – Hunters Moon, Birmingham
62nd Robert Allen – Narrow Boat, Newbury
63rd Ryan McKean – Huntsman, Bristol
64th Daniel Rooney – Lever Club, Bebington
65th Geoff Wing – Netherfield Tavern, Milton Keynes
66th Jamie Flecknell – Golden Hind, Cambridge
67th Graham Hussey – Cross Keys, York
68th Scott Palmer – Caskeys, Rhyl
69th Lynn Wootton – Foley Arms, Birmingham
70th Shaun Blackshaw – Firs Inn, Wolverhampton
71st Joshua Brunsdon – Cwrt Rawlin, Caerphilly
72nd James Dunwell – Lock Stock & Barrel, Newbury
73rd Terry Pitman – Queens Head, Oxford
74th Allan Ellis – Wyvern, Lee-on-Solent
75th Glyn Johnson – Ainsty Hotel, York
76th Paul Whitehead – Prince, Crowthorne
77th Kirsty Lord – Wheatsheaf, Darlington
78th Puneet Sharma – Oadby Owl, Leicester
79th Steven Wilkie – Old Brewery, Alloa
80th Thomas Cleeve – B52's, Horsham
81st Thomas O'Toole – Rose & Crown, Coventry
82nd Mark Higgins – Stag Inn, Wigan
83rd Brant Harrison – Saracens Head, Henley-on-Thames
84th Carl Swain – Woodman, Dudley
85th David Brewer – Britannia Inn, Telford
86th Martin Campbell – IQue Cafe Bar, Kirkintilloch
87th Anthony Dyer – Birchgrove, Cardiff
88th Kieran Walker – Bell Inn, Coventry
89th Luke Pollard – Holly Tree, Margate
90th Stephen Jones – College Arms, Reading
91st Ian Sandland – Narrow Boat, Newbury
92nd Mike Lynch – Crown & Arrows, Lincoln
93rd Joseph Patterson – IQue Cafe Bar, Kirkintilloch
94th James Brown – Red Lion, Gillingham
95th Darren Lane – Red Herring, Coppul
96th Craig O'Connor – Wheatsheaf, Rushde