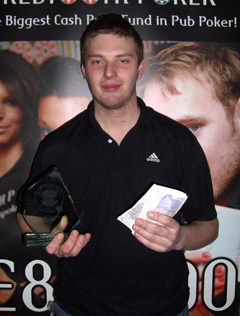 138 players attended the South England Regional Final which was held at Duffs Full House in Waterlooville, with 6 National Final places up for grabs.
It turned out to be a good day for the two representatives of the West End in Southampton, Terry Stroud and Liam Emmett, as they both made the 9 player final table in decent shape.
Liam was the stand out of the two players as he took the South England Regional Final title, with Terry finishing in a very respectable 4th place. Liam's heads-up battle ended up being against the chip leader as the final table got underway, Dave Pilgrim from the George in Poole. The result could have been the other way around if Dave's AT hand could have kept it's preflop advantage over Liam's K2 as the final board of the evening read T56 K 7. £1000 was shared between the top 8 players, with Liam collecting £500 and Dave £200 for their 1st and 2nd places.
National Final Qualifiers And Cash Prize Winners
1st Liam Emmett – West End, Southampton
2nd Dave Pilgrim – George, Poole
3rd Aide Balcombe – Old Fat Cat, Southampton
4th Terry Stroud – West End, Southampton
5th James Ellis-Smith – Red Lion, Lindfield
6th Lee Williams – Stourvale, Christchurch
Other Cash Prize Winners
7th Michael Bradley – Red Lion, Lindfield
8th Mark Gardener – Rileys, Aldershot