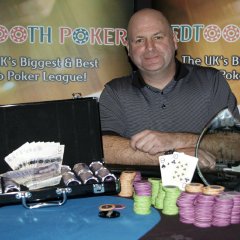 The very first Ace Of Clubs Quarterly Final was held on Sunday 31st January at Dusk Till Dawn in Nottingham, with 214 players battling it out for a share of the £10,000 prize pool.
Before the start of play, each club winner was presented with a certificate and glass trophy from John Holmes who is the National Operations Manager for Riley's.
Play started promptly at 2.00pm, when DTD Tournament Director, Simon Trumper announced "Shuffle up and deal", players started with 10,000 chips and a 30min clock, so there was no need to rush or take any chances, it was going to be a long day. However, Tom Roffey of Maidstone had other ideas and inside 25 minutes he was the first player eliminated, finishing 214th. With the pressure off, players settled in preparing to wait for that right moment to act.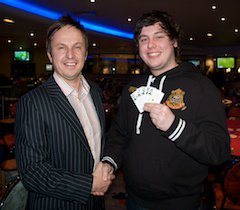 Just before the first scheduled break, with less than an hour played, Joshua Stephens from Chester achieved the (nearly) impossible, a Royal Flush in Clubs. The odds of achieving a Royal Flush are 649,740 to 1, achieving it in a specified suit are almost 2,000,000 to 1. Martin Green from Redtooth was on hand to congratulate Josh and confirm that he had won a holiday for two in Las Vegas including travel, accomodation and £500 spending money! Once the excitement had died down Josh revealed that as he is only 19 he would not be able to go on the trip, rather than take a cash alternative he has elected to pass the prize on to his mother. Nice one Josh!
Afternoon turned to evening and evening turned to night as players continued to be eliminated at a steady rate as the blinds increased and the ante's kicked in. Just after midnight we were down to the final nine with most players having a healthy sized stack of chips and with the prize money increasing, play became cautious for quite some time. Pocket Aces seemed to be the favourite starting hand with Robert McGuinness being dealt them no less than six times during the course of the final tables play.
First out on the final table, finishing 9th, was Adam Cullen from Norwich, followed by Tan-Tai Ellul-Nguyen from Cardiff in 8thplace. John Corcorran from Dunfermline came in 7th with Wayne Treveil from Lewisham in 6th and Stuart Trotter from Kirkintilloch in 5th.
With the clock approaching 1.30am we were down to the final four, over 2m chips were in play and blinds were 20k and 40k with an anti of 5k meaning 80k chips were up for grabs each hand before a card was dealt. This was no time for cavalier play, caution was the order of the day. Eventually Janet Hamilton of Wolverhampton was eliminated in 4th place, the highest placed lady in the event, well done Janet!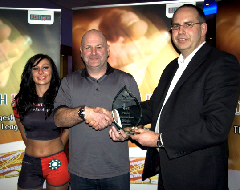 Dave Pope from Folkestone finished 3rd picking up £1,000 for his efforts and leaving two Scots to battle it out for the top spot. Robert McGuinness from Dunfermline was chip leader with over 1.4m chips but Damien O'Hara from Kirkintilloch was determined not to give up without a fight. The heads up battle lasted for almost two hours with both players showing a healthy respect for the others ability, at one point Damien took over as chip leader but Robert battled back to take the title at 3.55am after almost 14 hours play.