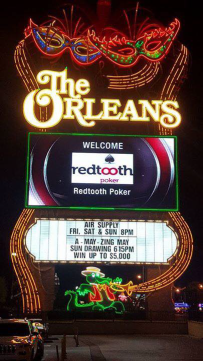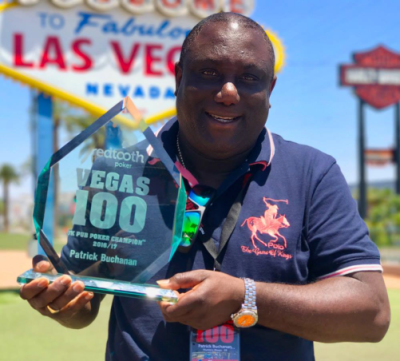 What is VEGAS100?
In 2012, Redtooth Poker revolutionised pub poker in the UK by introducing VEGAS100, a concept taking the UK's top 100 poker players, which are found via regional, national and online qualifiers, to the poker capital of the world, Las Vegas, to join the VEGAS100 experience and compete for the title of UK Pub Poker Champion. 100 players would travel across the pond but only 1 would return as the champion. Droitwich's Mikey Knight emerged victorious last year to become our first ever West Midlands champion but would he hold onto his crown or would a new star emerge from the desert of Las Vegas?
The cards were in the air on time at around 12:00 noon with at least a 12 hour poker marathon ahead of our 100 winners. The fantastic structure we use for VEGAS100 ensures all of our players get a lot of play in the early stages and as expected it took a while for us to lose our first player. Last year it took 45 minutes before we saw our first elimination, this year it took a little longer as Simon Sharples's exited the tournament during level 2.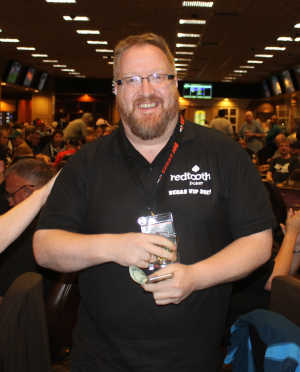 Our 100 winners were able to loosen up after Simon's elimination and gradually our 100 were whittled down to the final 20 players with Jason Phillips leading the field on 250,000. Dave Nelson from the Ainsty Hotel in York was the short stack on 14,000 chips.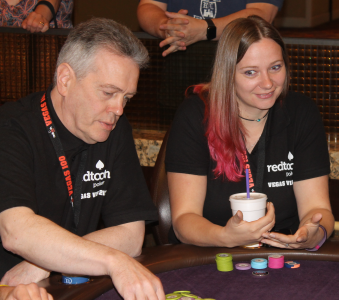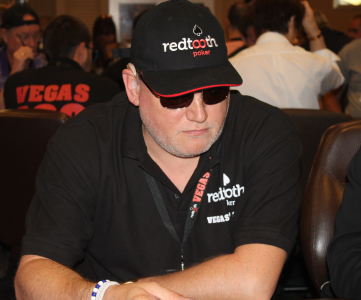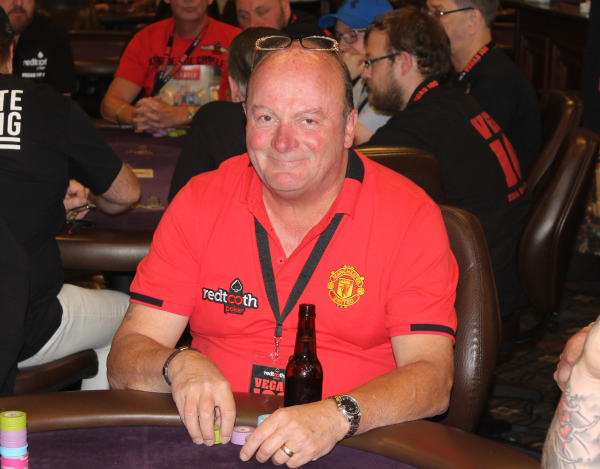 Welcome our final 20 players…
20th: Dave Nelson – Ainsty Hotel, York
19th: Robert Harrower – Oakwood Lounge, Sauchie
18th: Adrian Fazakerley – Dusty Miller, Barlborough
17th: Stuart Gilroy – Duke of Cornwall, Ivybridge
16th: Neil Sutcliffe – Old Swan Conservative Club, Liverpool
15th: Ashley Parker – Rushley, Mansfield
14th: Gavin Mercer – Knavesmire, York
13th: Alan Mitford – Grey Horse, Penshaw
12th: Lawson Finch – Lincoln Arms, Dorking
11th: Rob Wilkins – Hunting Lodge, Ivybridge
VEGAS100 2017 Final Table
With a new Redtooth arena created by the Orleans Casino poker room which included tiered seating for spectators, giving our final table a WSOP feel, the remaining player's exited in the following positions…
10: Mark Bates – Dun Cow, Stevenage
09: Will Norsden – Rose & Crown, Grimsby
08: Jason Phillips – Tynewydd Inn, Barry
07: John Gurnhill – Mosborough WMC, Mosborough
06: Martin Campbell – Gartocher, Glasgow
05: Kevin Tucker – Ye Olde Black Horse, Sidcup
04: Chris Tuzinkiewicz – Haywain, St Ives
03: Daniel Watson – Newton Arms, Doncaster
Daniel Watson's elimination in 3rd place brought us to our heads-up battle between Patrick Buchanan and Robert Wibberley. The final hand saw Robert at risk tabling K-J to Patrick's A-J. The board only helped Patrick as it ran out 8-7-5-A-4 to crown Patrick Buchanan the NEW UK Pub Poker Champion!
Meet the 2017 UK Pub Poker Champion!
The Leaving Party
A VEGAS100 trip is not complete without the popular leaving party! Player of the Year awards, the handing over ceremony from last years champ to this years, live music and, of course, a FREE BAR!!
VEGAS100 Finishing Positions
01 Patrick Buchanan – Hunters Moon, Birmingham
02 Robert Wibberley – Green Star, Stoke
03 Daniel Watson – Newton Arms, Doncaster
04 Chris Tuzinkiewicz – Haywain, St Ives
05 Kevin Tucker – Ye Olde Black Horse, Sidcup
06 Martin Campbell – Gartocher, Glasgow
07 John Gurnill – Mosborough WMC, Sheffield
08 Jason Phillips – Tynewydd Inn, Barry
09 Will Norsden – Rose & Crown, Grimsby
10 Mark Bates – Dun Cow, Stevenage
11 Rob Wilkins – Hunting Lodge, Ivybridge
12 Lawson Finch – Lincoln Arms, Dorking
13 Alan Mitford – Grey Horse, Penshaw
14 Gavin Mercer – Knavesmire, York
15 Ashley Parker – Rushley, Mansfield
16 Neil Sutcliffe – Old Swan Conservative Club, Liverpool
17 Stuart Gilroy – Duke Of Cornwall, Ivybridge
18 Adrian Fazakerley – Dusty Miller, Chesterfield
19 Robert Harrower – Oakwood Lounge, Sauchie
20 David Nelson – Ainsty Hotel, York
21 Carl Gregory – Players Lounge, Sheffield
22 Gary Pratt – Scotia Bar, Aberdeen
23 Jacques Bernard – Richmond Arms, Bournemouth
24 Steven Boote – Two Brewers, Croydon
25 Roy Callaway – Baffins, Portsmouth
26 Garry Wing – Netherfield Tavern, Milton Keynes
27 Carl Phelan – St Blazey Football Club, Par
28 Toni Watson – Newton Arms, Doncaster
29 Kyran Parker – Oak, Stowmarket
38 Bill Crymble – Ivy Tavern, Lincoln
30 Christopher Macdonald – Sobar, Inverness
31 Gary Rosser – Hollybush, Cardiff
32 Liam Hamilton – Wheatsheaf, Darlington
33 Dell Horner – Pyramid, Kilmarnock
34 Adrian Davidson – Royal Hotel, Orkney
35 Paul Lacey – Virgin Tavern, Worcester
36 Stephen Thompson – Horse & Jockey, Kingswinford
37 Colin Gray – Four Ashes, Takeley
39 Colin Caswell – Prince, Crowthorne
40 Alan Grainger – George, Warley
41 Colin Minchin – Grosvenor Casino, Southend
42 Jennifer Barr – Kings Head, Ashford
43 Peter Johnson – Junction, Ashton-under-Lyne
44 Stefan Bryne – Thatched House, Poulton-le-Fylde
45 Andrew Brook – Wheatsheaf, Darlington
46 David Pond – Cross Keys, Canterbury
47 Peter Bowler – Tiger Moth, Chatham
48 Liam Bint – Challow Royal British Legion, Wantage
49 Jacqueline Connors – Longs Arms, Trowbridge
50 Craig Macdonald – Old Reid Park Bar, Forfar
51 Scott Oliphant – Westport Tavern, Cupar
52 Lewis Saltariche – Trimpell Sports & Social Club, Morecambe
53 David Carlisle – Podger, Leeds
54 Margaret Gallacher – I-Que Cafe Bar, Kirkintilloch
55 Ian Kasalovic – Butlers, Highwycombe
56 Lee Peacock – Organ Inn, Stalybridge
57 Neill Pethick – White Hart, Holsworthy
58 Peter Wickenden – Wheatsheaf, Camberley
59 Robert Taylor – New Derby, Sunderland
60 John Godwin – Gwerthoner Social Club, Bargoed
61 Daniel Jobling – Ridger, West Kirby
62 David Turner – White Bear, Barrowford
63 Martin Taylor – Halfway House, Prenton
64 Jake Dickman – Sportsman, Huddersfield
65 Michael O'Shaughnessy – Boot & Shoe, Newark
66 Joe Burge – Castle, Hadleigh
67 Donna Lacey – Odd Shoe, Croydon
68 Norman Falconer – Butchers Arms, Aberdeen
69 Stephen Holder – Yeoman, Bristol
70 Lorraine Stirling – Newton Arms, Doncaster
71 Graham Cutler – Tin Hat, Hinckley
72 Jason Parton – Red Lion, Coventry
73 Vaidotas Styra – General Roy, Feltham
74 Alexander Rouse – Craft & Grill, Walton-on-Thames
75 Liam Chapman – Lord Derby, St Annes
76 Terry Pitman – Queens Head, Oxford
77 Craig Dowsett – Grantham Railway Club, Grantham
78 Michael Knight – Copcut Elm, Droitwich
79 Gatis Praulins – White Hart, Andover
80 Paul Stocker – Duke Of Cornwall, Ivybridge
81 Marc Bellamy – Ash Tree, Ashford
82 Greg Ford – Tividale Football Club, Tividale
83 Jon Whale – Duke Of Cornwall, Ivybridge
84 Martyn Higgs – Bell Inn, Yeovil
85 Richard Webb – Molloys, Bridgend
86 Mark Ransom – Oxted Inn, Surrey
87 Martin Bremner – Green Dragon, Hucknall
88 Tracey Della – Cranleigh, Bournemouth
89 Ian Ritchie – Gartocher, Glasgow
90 Justin Corey – Flute & Flagon, Solihull
91 Sean Anderson – Boat & Horses, Chadderton
92 Tommy Walker – Viking Bar, Glasgow
93 Trudi Legon – Ye Olde Black Horse, Sidcup
94 Dean Brookes – Sutton Park Hotel, Birmingham
95 Joe Broadbent – Eagle & Hind, Chelmsford
96 Andrew Rodway – Beggars Bush, Sutton
97 Adrian Dearden – Horse & Jockey, Upton
98 Ben Poole – Merry Hill, Wolverhampton
99 Simon Sharples – Scenario, Stoke Newington