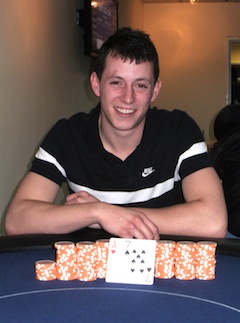 142 players entered Duffs Full House for the South England Regional Final.
James Purkiss from the Famous Old Pines in Bournemouth was the first player out in 142nd, with their other two qualifiers fairing much better coming home in 16th place and 30th place respectively. The team from Plough On The Green in Newbury had a day to remember as two of their three qualifiers made the final table, these being Rob Allen and Emily Hayes.
As the final table began, Michael Brant from the Locomotive in Little Hampton had a huge chip lead with 374,000 in chips, a staggering 236,000 more than his closest rival. Michael's chips dwindled slightly as the rest of the runners tried to up their game and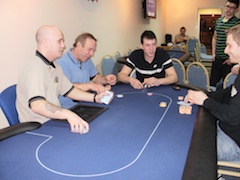 close thegap. However, after a lengthy final table, Michael found himself in a heads-up match against Plough On The Green's Rob Allen. The match ended when Rob went all-in with K6 only to receive a quick call from Michael, holding A7. The tension built as the flop turn and river were dealt, but there was no help for Rob as Michael's A7 secured the win when a 3J8 10 and 7 hit the felt. Michael becomes our new South England champion and takes home £500, a Redtooth glass trophy and a place in our annual National Final.
National Final Qualifiers & Cash Prize Winners
1st Michael Brant – Locomotive, Little Hampton
2nd Rob Allen – Plough On The Green, Newbury
3rd Robert Higgins – Cuckoo Pint, Fareham (Already Qualified)
4th Paul Bennett – Hop & Kilderkin, Bournemouth
5th Steve Johnson – Old Farmhouse, Southampton
6th Jimbo Stewart – York Hotel, Bexhill On Sea
7th Emily Hughes – Plough On The Green, Newbury
Other Cash Prize Winners
8th David Stimson – Old House At home, Havant