From Friday 6th July we are introducing a 2nd £22 qualifier on Friday evenings guaranteeing another TWO £95 tickets into our £25,000 GTD tournament at the Goliath festival on Saturday 28th July. This extra qualifier gives our members two chances per week for the next 3 weeks to qualify for this prestigious event.
Our £22 satellites start at 8:00pm with 1 hour late registration on Friday & Saturday evenings.
You can find all of our tournaments under 'Tournaments' > 'Partners' > 'Redtooth'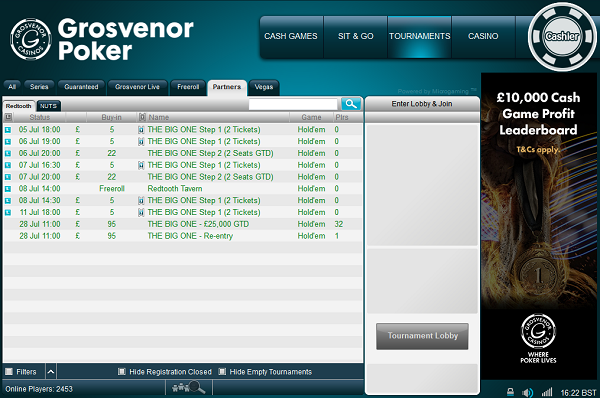 Get involved from this weekend!
Our online satellite schedule:
Wednesday 6:00pm: £5 Satellite (THE BIG ONE STEP 1)
Thursday 6:00pm: £5 Satellite (THE BIG ONE STEP 1)
Friday 7:00pm: £5 Satellite (THE BIG ONE STEP 1)
Friday 8:00pm: £22 Satellite (THE BIG ONE STEP 2)
Saturday 4:30pm: £5 Satellite (THE BIG ONE STEP 1)
Saturday 8:00pm: £22 Satellite (THE BIG ONE STEP 2)
Sunday 2:00pm: Redtooth Tavern Online Poker League
Sunday 2:30pm: £5 Satellite (THE BIG ONE STEP 1)