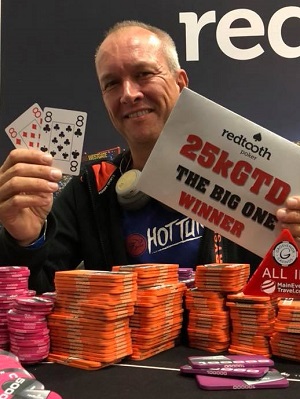 WINNER – Gary Edwards – Malling Town Club, Kent
£5,500*
02 Ben Bithell – Queens Head, Oxford (£5,500*)
03 Adrian Davidson – Stromness Golf Club, Orkney (£3,000)
04 Julian Varney – Greenhouse, Belper (£2,000)
05 Richard Steggles – Macebearer, Bury St Edmunds (£1,500)
06 Stephen Bridges – Travellers Home, Bexley Heath (£1,250)
07 Stephen Emery – Green Star, Stoke-on-Trent (£1,000)
08 Wesley Ferris – Dun Cow, Stevenage (£750)
09 James Hewitt – Viking Bar, Glasgow (£500)
10 Marshall Glover – White Horse, St Albans (£350)
11 Tony Andrews – Peacock Inn, Shrewsbury (£250)
12 Robert Bennett – Old Inn, Weston-super-Mare (£250)
13 Dave Fry – Hop & Kilderkin, Bournemouth (£250)
14 Joanne Spencer – Commercial, Cleckheaton (£250)
15 Anthony Spriggs – Stainton Inn, Middlesbrough (£250)
16 Martin Cole – Grapes, Bury St Edmunds (£180)
17 Martin Warfield – Timberdine, Worcester (£180)
18 Simon Parker – Railway Inn, Hinckley (£180)
19 Ryan Moles – White Horse, St Albans (£180)
20 Phil Davidson – Apple Tree, West Bridgford (£180)
21 Martin Stephens – Birchgrove, Cardiff (£150)
22 Alex Tuzinkiewicz – Haywain, St Ives (£150)
23 Steve Brook – Shots Sports Bar, Hastings (£150)
24 Mark Freeman – Mosborough Miners Welfare, Mosborough (£150)
25 Michael Robinson – Green Star, Stoke-on-Trent (£150)
26 Ian Smith – Oak, Stowmarket (£150)
27 Paul Goater – Star & Garter, Portsmouth (£150)
28 Phil Longley – Brewery Tap, Worksop (£150)
29 Douglas Hamilton – Viking Bar, Glasgow (£150)
30 Phillip Richardson – Dun Cow, Stevenage (£150)
* The final 2 players agreed on a deal.
After the success of this tournament last year we were very excited to be able to run this again as part of the GUKPT Goliath festival at the Ricoh Arena in Coventry and also to launch the very anticipated 2018/19 Redtooth Poker Tour. Around 300 entries were all playing for the top prize of £7,000, the 2nd biggest prize that we award behind the VEGAS100 top prize of a £13,000 package!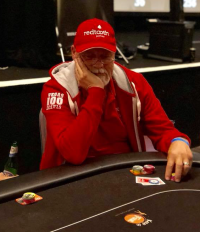 The UK Pub Poker Champion, Tim Osborn, of the New Club in Oxford was in attendance in his first Redtooth Poker event since winning back-to-back tournaments in the VEGAS100 national final and the London Two regional final.
Unfortunately he couldn't make it a hat-trick of wins as he was eliminated fairly early on giving the other players a chance to get in on the action!
Unlike last year we introduced a new rule of a FREE add-on for those players who have played 13 league games in the past 12 months as a way to reward the players' dedication. With all of the buy-ins and add-ons we had over 13,000,000 chips in play. Incredible! After a total of 14 hours play we came down to a heads-up match between Ben Bithell and Gary Edwards. With Ben starting as the much bigger stack it took a double-up from Gary Edwards for a deal to be discussed. Both players agreed to chop the remaining £11,000 and took £5,500 each with the game continuing to find the overall champion and trophy winner. Within the next 10 minutes we had that champion and it was Gary Edwards from the Malling Town Club in Kent who walked away with the trophy on top of his £5,500. Congratulations to all 30 cash winners!
If you're not a member of the UK's biggest pub poker league, why not become a member? Find your nearest league here and maybe you could be taking home a share of £25,000 next year.