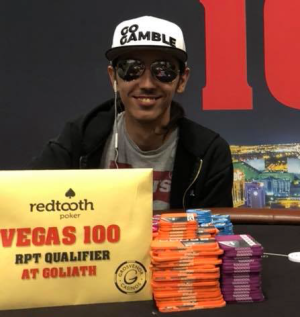 Like last year the Redtooth Poker Tour was launched once again at the Goliath festival. Also like last year we ran Leg 1 the day after our successful £25,000 GTD event. The event was sold out weeks in advance so 150 people took their seats to battle for the top prize in pub poker, a VEGAS100 2019 seat. To mix things up a little we introduced an increased starting stack with the option of an add-on which was FREE if you met the criteria. We also guaranteed £2,500 in cash, which if we're honest, would always create an overlay from capping the event at 150 players. But it is the 1st leg after all.

The tournament was slow moving in the early stages due to the great structure on offer but after the add-on period had passed the eliminations started to speed up. He hit the final table at around 9pm and all 10 players were officially prize winners sharing the £2,500 on offer and the VEGAS100 seat.
After another 2 hours play we were heads-up with Scott Swain and Liam Hamilton fighting for the top prize. Liam started as the comfortable chip leader but with Scott doubling up twice Liam found himself as an underdog for the first time. Our final hand again saw Scott get the better of Liam as Scott's 8-3 flopped trips to Liam's top pair on a 9-8-8 flop. The turn and river was of no help to Liam as Scott Swain picked up the rest of the chips to become the first winner of the 2018/19 RPT.
Results
WINNER – Scott Swain – VEGAS100
02. Liam Hamilton – £800 & UK National Final Seat
03. Daniell Patterson – £550 & UK National Final Seat
04. Laura Kanji – £400 & UK National Final Seat
05. Steve Allen – £300 & UK National Final Seat
06. Martin Campbell – £200 & UK National Final Seat
07. Andy Hiew – £100 & UK National Final Seat
08. Lee Haskell – £70 & UK National Final Seat
09. Ronald Fleming – £50 & UK National Final Seat
10. Phil Richardson – £30 & UK National Final Seat
Final Table Chip Stacks
01. Scott Swain – 684,000
02. Martin Campbell – 680,000
03. Daniell Patterson – 670,000
04. Liam Hamilton – 618,000
05. Andy Hiew – 527,000
06. Ronald Fleming – 379,000
07. Steve Allen – 287,000
08. Lee Haskell – 253,000
09. Phil Richardson – 240,000
10. Laura Kanji – 182,000
Final Hand
Scott Swain: 8-3
Board: 9-8-8 2 5
Liam Hamilton: 9-3
Redtooth Poker Tour Top 3
1st Scott Swain – 150 points
2nd Liam Hamilton – 120 points
3rd Daniell Patterson – 105 points
The full leaderboard can be found here