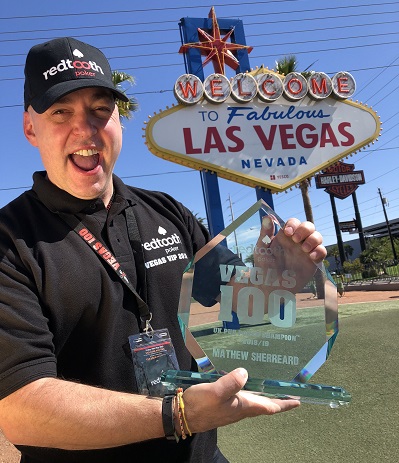 What is VEGAS100?
In 2012, Redtooth Poker revolutionised pub poker in the UK by introducing VEGAS100, a concept taking the UK's top 100 poker players, which are found via regional, national and online qualifiers, to the poker capital of the world, Las Vegas, to join the VEGAS100 experience and compete for the title of UK Pub Poker Champion. 100 players would travel across the pond but only 1 would return as the champion. Oxford's Tim Osborn emerged victorious last year to become our most southerly champion to date but would he hold onto his crown or would a new star emerge from the desert of Las Vegas?
First Player Out
We kicked the tournament off on time as 'shuffle up 'n' deal' was announced at 12noon. With our VEGAS100 final offering an exceptional structure it took nearly 2 hours before we lost our first player. The VEGAS100 structure is designed to give all qualifiers a great Las Vegas poker playing experience, even for the first player out! The unlucky player on this occasion was Jack Braithwaite from the Castle in Benfleet.
Last Year's UK Pub Poker Champion Falls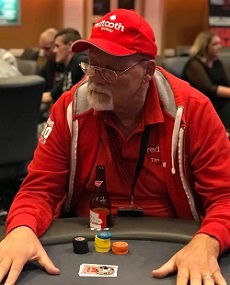 Last year's champion Tim Osborn made a good attempt of defending his title but he fell in 60th position. The ex-champ made an entrance to remember as he entered the poker room Phil Helmuth style in a golden cape to a big cheer and round of applause. Tim has had a great year as our champion winning another regional final and winning one of his first sponsorship tournaments for over £3,000. In total, from his year as champion, he cashed for over £10,000! This is a new record amount for a UK Pub Poker Champion.
Our Player of the Year nominees struggled in what is proving to be a bit of a curse in the VEGAS100. The highest finisher was Plymouth's Jon Whale who finished in 39th position. Scott Swain just missed out on a top half finish in 54th, as did Willie Gifford who was 1 place lower in 55th, Paul Lacey was eliminated in 69th and Kev Tyndall 92nd.
In the early Las Vegas evening we had our final 20 players who were all guaranteed to win a slice of the £25,000 prize-pool. This was after our top female player bubbled the cash prizes in 21st place. Karen Lythe was the unlucky player this year but being our best female player is some consolation.
Welcome our final 20 players
20th: Chris Gibbs – Crown Inn, Worcester (£100)
19th: Tom Furber – Green Star, Stoke-on-Trent (£100)
18th: Bruce Hearn – Snooty Fox, Crawley (£100)
17th: Steve Smith – Castle, Benfleet (£100)
16th: Chris Booth – Staff of Life, Doncaster (£100)
15th: Melvin Dow – Old Bank Bar, Aberdeen (£150)
14th: Adrian Davidson – Stromness Golf Club, Stromness (£150)
13th: Giles Redgrave – Monkfield Arms, Great Cambourne (£150)
12th: Chris Williamson – Scenario, Stoke Newington (£200)
11th: Albert Picken – Saltoun Arms, Aberdeen (£200)
VEGAS100 2019 Final Table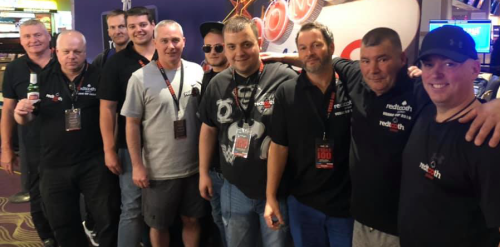 With the Redtooth arena created by the Orleans Casino poker room which included tiered seating for spectators, giving our final table a WSOP feel, the remaining players exited in the following positions…
10th: Jamie Appleton – Inn on the Green, Billericay
9th: Alan Cameron – Old Swan Conservative Club, Liverpool
8th: Nick Hayward – Durham Ox, North Allerton
7th: Martin Kelland – George Abbott, Guildford
6th: Clive Young – Tandem, Oxford
5th: Alan Ellis – Testwood Hotel, Totton
4th: Raitis Zomerovskis – Portcullis, Abroath
3rd: Darrin Green – Seaham Red Star, Seaham
Our final two players playing the heads-up match was Mathew Sherreard from the Zach Wilsher in Benfleet and Michael Morris from the Calder & Hops in Wakefield. The final hand saw Mathew raise all-in with Ad-Jd, only to be called by Michael Morris with Ks-6s. The flop was very favourable to Mathew as he added a flush draw to his high-card hand with a 4d-Qd-3c flop. The turn sealed the deal as we saw the As and after a meaningless 4s on the river our new champion was found! Congratulations Mathew Sherreard the 2019 UK Pub Poker Champion!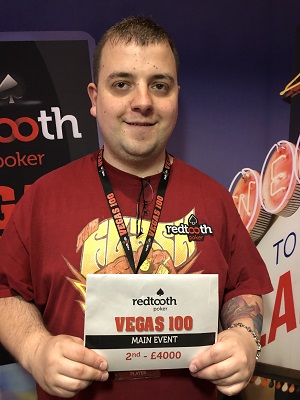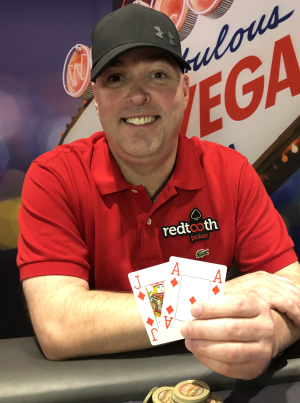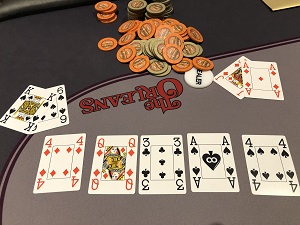 Mathew takes away £8,000 and a £5,000 sponsorship package which includes: Return trip for VEGAS100 2020, custom branded clothing, entry into all of the RPT legs and many many other tournaments around the UK poker scene.
VEGAS100 Final Table Highlights
VEGAS100 Finishing Positions
01 – Mathew Sherreard – Zach Wilsher, Benfleet (£13,000 package)
02 – Michael Morris – Calder & Hops, Wakefield (£4,000)
03 – Darrin Green – Seaham Red Star, Seaham (£2,000)
04 – Raitis Zomerovskis – Portcullis, Abroath (£1,500)
05 – Alan Ellis – Testwood Hotel, Totton (£1,000)
06 – Clive Young – Tandem, Oxford (£750)
07 – Martin Kelland – George Abbott, Guildford (£500)
08 – Nick Hayward – Durham Ox, North Allerton (£400)
09 – Alan Cameron – Old Swan Conservative Club, Liverpool (£300)
10 – Jamie Appleton – Inn on the Green, Billericay (£200)
11 – Albert Picken – Saltoun Arms, Aberdeen (£200)
12 – Chris Williamson – Scenario, Stoke Newington (£200)
13 – Giles Redgrave – Monkfield Arms, Great Cambourne (£150)
14 – Adrian Davidson – Stromness Golf Club, Stromness (£150)
15 – Melvin Dow – Old Bank Bar, Aberdeen (£150)
16 – Chris Booth – Staff of Life, Doncaster (£100)
17 – Steve Smith – Castle, Benfleet (£100)
18 – Bruce Hearn – Snooty Fox, Crawley (£100)
19 – Tom Furber – Green Star, Stoke-on-Trent (£100)
20 – Chris Gibbs – Crown Inn, Worcester (£100)
21 – Karen Lythe – Navy Club, Darlington
22 – Shaun Robinson – Assembly Rooms, Epsom
23 – Liam Hamilton – Navy Club, Darlington
24 – David Evans – White Hart Hotel, Holsworthy
25 – Patrick Kirkby – Ridger, West Kirby
26 – Paul Swash – Huntsman, Cheadle
27 – Tim Worsnop – Butler's, High Wycombe
28 – Shobhit Singh – Royal Oak, Cannock
29 – Gary Hutton – Beggars Bush, Sutton Coldfield
30 – Gareth Owens – Marine FC, Liverpool
31 – Tyrone Watkins – Gwethoner Social Club, Gilfach Bargoed
32 – Gareth Hockin – Dows, Inverness
33 – Morgan Hayward – Crofton Club, Stubbington
34 – Steve Thatcher – Manor House, Portsmouth
35 – Paul Webb – Bell Inn, Bovey Tracey
36 – Matthew Berrey – Copcut Elm, Droitwich
37 – James Kelly – Hammer & Pincers, Sheffield
38 – Richard Coleman – Mosborough WMC, Sheffield
39 – Jonathan Whale – Hunting Lodge, Ivybridge
40 – Steven Brennan – Oakwood, Sauchie
41 – Mark Roberts – Ock & Dough, Wellingborough
42 – Wayne Morgan – Nine Giants, Cardiff
43 – Andrew King – New Club, Oxford
44 – Harsheet Singh – Royal Oak, Cannock
45 – Nick Clifton – Mosborough WMC, Sheffield
46 – Jason Phillips – Tynewydd Inn, Barry
47 – Chris Rudd – Kings Arms, Billingham
48 – Graham Brandreth – Bootham Tavern, York
49 – Andrew Hope – Virgin Tavern, Worcester
50 – Simon Baker – Queslett, Sutton Coldfield
51 – Martin Warfield – Timberdine, Worcester
52 – Uwe Deffner – Saracens Head, Henley On Thames
53 – Andy Gove – Catherine Wheel, Newbury
54 – Scott Swain – Ellas Bar, Dudley
55 – William Gifford – Viking Bar, Glasgow
56 – Leon Burke – Cock Inn, Birmingham
57 – John Matthews – Centenary, Stockton
58 – Richard Thomas – Rotunda Tavern, Cheltenham
59 – Robert Pepper – Paignton Sea Anglers, Paignton
60 – Tim Osborn – New Club, Wheatley
61 – Ashley Field – Ashtree, Ashford
62 – Martin Litchfield – Langley Mill MWSC, Langley Mill
63 – Mark Smith – Whitfield Club, Dover
64 – Dave Hein – Green Man, Bedfont
65 – Paul Desousa – Cue Bar, Norbury
66 – Robert Whyley – Dog & Partridge, Morecambe
67 – Dave Bell – West End, Gomersal
68 – John Shanahan – Constitution, London
69 – Paul Lacey – Virgin Tavern, Worcester
70 – Daniell Paterson – Old Bank Bar, Aberdeen
71 – John Butterell – Earl Marshall, Sheffield
72 – Steven Smart – Westport Tavern, Cupar
73 – Lewis Saltariche – Dog & Partidge, Morecambe
74 – Simon Baxter – Saltshouse Tavern, Hull
75 – Mark Lawes – Stag Inn, Wigan
76 – Nigel Gower – Rowbarge, Surrey
77 – Bryan Douglas – Auctioneers, Inverness
78 – Ian Hymas – Navy Club, Darlington
79 – David Mitchell – Royal Tavern, London
80 – David Rennison – Bromsgrove Unionist Club, Bromsgrove
81 – Anthony Wood – Dragon Hotel, Leeds
82 – Lloyd Thorngate – Tumble Inn, Pontypridd
83 – Maris Lukasevics – Old Lion Inn, Cleobury
84 – Anthony Hordle – Wareham Legions Club, Wareham
85 – Scott Johnstone – Drysdale & Sons, Alloa
86 – Vicki Waddington – Fair Maid, Hull
87 – Danny Phillips – Baffins, Portsmouth
88 – Neil Armstrong – Queens Head, Gretna
89 – Carl Phelan – Packhorse Inn, St Blazey
90 – Shaun Courtney – Bromborough, Wirral
91 – Anthony Hannon – Ring O'Bells, West Kirby
92 – Kevin Tyndall – Pike & Musket, Gloucester
93 – Troy Sallis – Anglesey Arms, Burton-on-Trent
94 – Craig Thurgood – Winton WMC, Bournemouth
95 – Ian Ritchie – IQue Café Bar, Glasgow
96 – Jack Braithwaite – Castle, Benfleet