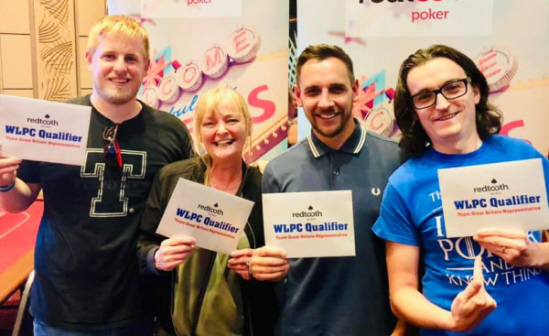 The GUKPT Goliath was back in Coventry and for the third year running we attended the first weekend. We held four events over the weekend which saw over 500 registrations from our members alone. On Friday night we held a live WLPC qualifier which attracted 100 entries and saw FOUR seats awarded into November's worldwide pub league poker festival, held in Las Vegas. Saturday was 'THE BIG ONE' which once again saw £25,000 awarded to the top 30 finishers on the day with £7,000 going to the winner. Sunday saw the launch of the new Redtooth Poker Tour with an increased buy-in raising the cash prize-pool to around £3,500. Finally, the weekend of poker was finished off with a 'Redtooth Goes Wild' event, aka Jokers Wild which was an open event and attracted over 150 players.
The WLPC qualifier had an 8:00pm start and ran on until around 2:30am. One re-entry was allowed per player and with all the re-entries we hit the 100 mark. All players who attend our weekend opener were treated to a meal and drink voucher on us! All in all the event was a huge success and we even saw a flopped Royal Flush from Kevin Scott! The odds of doing that are 1-in-649740!! aka once in a lifetime.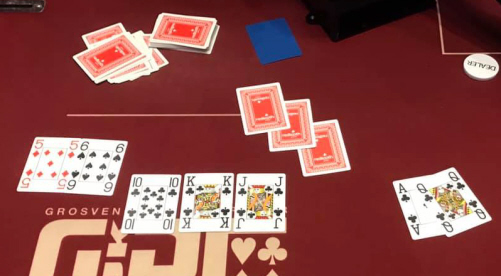 Results
01 WLPC QUALIFIER – Gareth Smith – Brewery Tap, Worksop
02 WLPC QUALIFIER – Darren Sutherland – Stromness Golf Club, Stromness
03 WLPC QUALIFIER – Chris Byrne – Newton Arms, Doncaster
04 WLPC QUALIFIER – Caroline Quinn – Green Dragon, Hucknall
05 Ellissia Semo – Green Man, Lavendon
06 Patrick Buchanan – Hunters Moon, Birmingham
07 Paul McNeill – Hobsons Choice, Kettering
08 Adrian Davidson – Stromness Golf Club, Stromness
09 Sherri Jeffrey – Pot Black, Bury-st-Edmunds
10 Glyn Morris – Brewery Tap, Worksop
Final Table Chip Stacks
01 Patrick Buchanan – 284,000
02 Darren Sutherland – 197,000
03 Glyn Morris – 194,000
04 Gareth Smith – 178,000
05 Caroline Quinn – 177,000
06 Paul McNeill – 160,000
07 Chris Byrne – 156,000
08 Ellissia Semo – 42,000
09 Sherri Jeffrey – 41,000
10 Adrian Davidson – 36,000
About the WLPC?
The World League Poker Championships (WLPC) consists of pub poker leagues from the USA and Canada, as well as the UK. All 3 nations come together in Las Vegas for one big 6-day poker festival which culminates with the WLPC main event, where the winner will become the World Champion of pub poker and also win at least $5,000 in cash.