Colin Broadhead – Butchers Arms, Warrington
UK PUB POKER CHAMPION
What is VEGAS100?
In 2012, Redtooth Poker revolutionised pub poker in the UK by introducing VEGAS100, a concept taking the UK's top 100 poker players, which are found via regional, national and online qualifiers, to the poker capital of the world, Las Vegas, to join the VEGAS100 experience and compete for the title of UK Pub Poker Champion. 100 players would travel across the pond but only 1 would return as the champion. Orkney's Erlend Grieve emerged victorious last time out in our re-arranged 2020 trip to become our most northernly champion to date but would he hold onto his crown or would a new star emerge from the desert of Las Vegas?
First Player Out
We kicked the tournament off on time as 'shuffle up 'n' deal' was announced at 11am. Eventhough our VEGAS100 final offers an exceptional structure, even that couldn't help Calum Robertson who was our first player out after only 20 minutes. Unfortunately for Calum, he ran QQ into AA, not once, but TWICE in the first 20 minutes!! The VEGAS100 structure is designed to give all qualifiers a great Las Vegas poker playing experience, even for the first player out! Unlucky Calum, that's taking bad luck to the next level.
Ex-Champion's wife attempts to repeat his feat…
Ex-Champion, Gordon Cuthill was present in Las Vegas with us, but not because he was playing in the tournament. He was actually there to support his wife, Julie Cuthill, who had won a VEGAS100 seat by winning an online game during lockdown. Julie put in a fantastic showing and was our last female player to exit the tournament in 29th position.
Matthew Constable's parents make the trip to support their son...
As Matthew Constable was busy securing his VEGAS100 ticket at the Grosvenor Casino in Manchester at the North West regional finals, his parents were already enjoying some time in Vegas. After the win, Matthew phoned his parents to give them the news and they immediately went over to the Orleans Hotel & Casino to check out where the event would be held. Clearly impressed by the casino, they returned on their own accord just in time to catch Matthew in the VEGAS100 main event. Unfortunately Matthew couldn't bring the title back to the North West as he exited in 70th position.
In the early Las Vegas evening we had our final 20 players who were all guaranteed to win a slice of the £25,000 prize-pool. This was after Lewis Smith-Patterson from the Kings Arms in Billingham bubbled the cash prizes in 21st place. All remaining players were guaranteed £100 for their efforts so far, but all 20 players no doubt had their eye on the top prize of £8,000 in cash and a £5,000 sponsorship package.
Welcome our final 20 players
20th: Paul Harrison – Crown Inn
19th: Clive Knowles – Locomotive Inn, Ashford
18th: John Hussey – Plough Inn, Skellingthorpe
17th: Fred Payne – Old Inn, Hutton
16th: Lucas Durney – Old Plough. Bristol
15th: Alex Rouse – Bagster House, Shepperton
14th: Adam Bennett – Greenhouse, Belper
13th: Tim Hawkins – Bar No.9, Bishops Cleeve
12th: Craig Wilkie – Old Brewery, Alloa
11th: Graham Smith – Rowbarge, Guildford
VEGAS100 2020 Final Table
With the Redtooth arena created by the Orleans Casino poker room which included tiered seating for spectators, giving our final table a WSOP feel, the remaining players exited in the following positions…
10th: Kye Massey – Rushley, Mansfield
9th: Martyn Higgs – Bell Inn, Yeovil
8th: Gareth Tate – Queens Hotel, Morley
7th: Declan Colohan – Red Lion, Gillingham
6th: Martin Willdigg – Snooker Club, Salisbury
5th: Reuben Fox – Flying Fifteens, Lowestoft
4th: Stephen O'Reilly – Windmill Club, Rushden
3rd: Arthur Mew – Peregrine, Newcastle
2nd: Lee Field – Norman Inn, Barnsley
Our final two players playing the heads-up match was Warrington's Colin Broadhead, who came into the heads-up match as a chip underdog and Lee Field from Barnsley. Colin grinded his way back to a healthy chip lead as we approached the end of the tournament. The final hand saw Lee shove all-in as a semi-bluff with 6-9 on a J-K-Q-Q board being first to act on the turn. Colin thought about it briefly before making the hero call holding A-8. Colin needed to fade a 9 or a 6 on the river to take the title and that he did as a 2 hit the felt to crown Colin Broadhead our latest UK Pub Poker Champion. Congratulations!!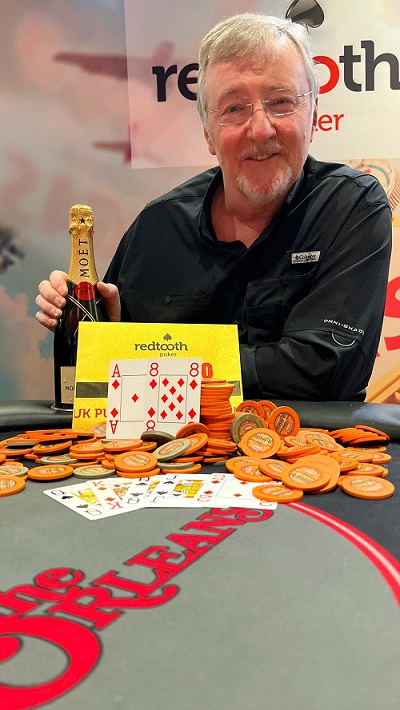 Colin takes away £8,000 and a £5,000 sponsorship package which includes: Return trip for VEGAS100 May 2023, custom branded clothing, entry into all of the RPT legs and many many other tournaments around the UK poker scene.
VEGAS100 Finishing Positions
01 – Colin Broadhead – Butchers Arms, Warrington (£13,000 package)
02 – Lee Field – Norman Inn, Barnsley (£4,000)
03 – Arthur Mew – Peregrine, Newcastle (£2,000)
04 – Stephen O'Reilly – Windmill Club, Rushden (£1,500)
05 – Reuben Fox – Flying Fifteens, Lowestoft (£1,000)
06 – Martin Willdigg – Snooker Club, Salisbury (£750)
07 – Declan Colohan – Red Lion, Gillingham (£500)
08 – Gareth Tate – Queens Hotel, Morley (£400)
09 – Martyn Higgs – Bell Inn, Yeovil (£300)
10 – Kye Massey – Rushley, Mansfield (£200)
11 – Graham Smith – Rowbarge, Guildford (£200)
12 – Craig Wilkie – Old Brewery, Alloa (£200)
13 – Tim Hawkins – Bar No.9, Bishops Cleeve (£150)
14 – Adam Bennett – Greenhouse, Belper (£150)
15 – Alex Rouse – Bagster House, Shepperton (£150)
16 – Lucas Durney – Old Plough. Bristol (£100)
17 – Fred Payne – Old Inn, Hutton (£100)
18 – John Hussey – Plough Inn, Skellingthorpe (£100)
19 – Clive Knowles – Locomotive Inn, Ashford (£100)
20 – Paul Harrison – Crown Inn (£100)
21 – Lewis Smith-Patterson – Kings Arms, Billingham
22 – Simon Nooranvary – Two Brothers, Southampton
23 – Ian Winton – Northern Bar, Aberdeen
24 – Martin Bromley – Chesterfield Arms, Burton
25 – Nick Allen – Greyhound, Blandford
26 – George Robertson – Northern Bar, Aberdeen
27 – David Potter – Northern Bar, Aberdeen
28 – Iain Anderson – IQue Cafe Bar, Kirkintilloch
29 – Julie Cuthill – Ceres Inn, Ceres
30 – Richard Maddox – Lanivet Inn, Bodmin
31 – Patrick Kirkby – Ridger, Wirral
32 – Paul Griffiths – Trallwn WMC, Pontypridd
33 – Anthony Wood – Queens Shovel, Online
34 – Scott Rooney – IQue Cafe Bar, Kirkintilloch
35 – Gary Lythe – Copper Beach, Darlington
36 – Mark Andrews – Whitfield Club, Dover
37 – Vincenzo Ferrante – Victoria, Dunstable
38 – Nicholas Horton – Carters Rest, Swindon
39 – Andrew Holburn – Royal, Tillicoultry
40 – Neil Steptoe – Oxted RBL, Oxted
41 – John Paterson – Farmers Armns, Moreton
42 – John Todd – North Star, Maidenhead
43 – Jamie Dyer – Plough Inn, Skellingthorpe
44 – Mark Matthews – Railway Inn, West Wickham
45 – James Pieroni – Brewery Tap, Worksop
46 – Chris Price – Fieldhouse, Birmingham
47 – Daniel Ryder – Bar 21, Manchester
48 – Gary Hutton – Beggars Bush, Birmingham
49 – Philip Powell – Star & Garter, Portsmouth
50 – Patrick Wilshaw – Royal Oak, Caterham
51 – Harinder Mehta – Park Hotel, Lancaster
52 – Kevin Monger – Prince Albert, Bexleyheath
53 – Colin Foster – Leopard, Online
54 – John Corps – Royal Oak, Caterham
55 – Anthony Yates – Fair Maid, Hull
56 – Phil Hobday – Wooton WMC, Wooton
57 – Richard Mackie – Northern Bar, Aberdeen
58 – John Stocker – Tin Hat, Hinckley
59 – Helen Hussey – Riverside Farm ,York
60 – Rob Wilkins – Duke of Cornwall, Ivybridge
61 – Alan Dorning – Sloop Inn, Hull
62 – Kayleigh Bennett – Redbridge, Andover
63 – Dale Adams – Alma Inn, Sheffield
64 – Glyn Morris – Mosborough WMC, Sheffield
65 – Matthew White – Summerhouse, Weston-super-Mare
66 – Graeme Garioch – Mecca Bingo, Aberdeen
67 – James Kuczynski – Woolpack, Shawbirch
68 – James Yeo – New Crown, South Shields
69 – Paul Razzell – New Inn, Maidenhead
70 – Matthew Constable – Cotton Bale, Hyde
71 – Selamiri Blloshmi – Snooty Fox, Crawley
72 – Marvyn Dossantos – Kings Arms, Online
73 – Rikki Eastley – Globe Inn, Buckfastleigh
74 – Richard Thomas – Rotunda Tavern, Cheltenham
75 – Wayne Pretorius – Greyhound, Wivenhoe
76 – Richard Couldwell – Mosborough WMC, Sheffield
77 – Brian Saunders – Whitfield Club, Dover
78 – David Kilbride – Ribble Pilot, Preston
79 – Graham Cutler – Tin Hat, Hinckley
80 – James Pickering – Harrington Arms, Nottingham
81 – Mike Yeo – Snooty Fox, Online
82 – Carl Wright – Durham Ox, Northallerton
83 – Louise Attwood – Boscombe Down Rec, Amesbury
84 – Gary Tyler – Oak Apple, Worcester
85 – Steven Jenkins – Rhodrons Club, Chessington
86 – Paul McNeill – Hobsons Choice, Kettering
87 – Shane Summers – Cedars Arms, Barnstaple
88 – Jeffrey Dyer – Birchgrove, Cardiff
89 – Leslie Allen – Old Farmhouse, Southampton
90 – Martin Power – Ribble Pilot, Preston
91 – Robert Donelan – High Orchard, Gloucester
92 – Mick Ashton – Sloop Inn, Hull
93 – Daniel White – Apple Tree, Carlisle
94 – Gareth Hanna – Whittington Cat, Whitehaven
95 – Brian McCluckie – Oakwood, Sauchie
96 – Steven Mulligan – Old Swan Conservative Club, Liverpool
97 – Mahesh Kanji – Fox under the Hill, London
98 – Heather Crossley – Saltshouse Tavern, Hull
99 – Calum Robertson – Black Bull Inn, Mid Calder