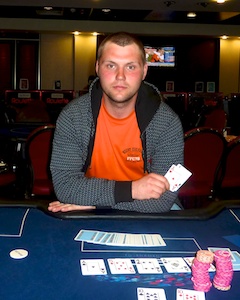 A glorious weekend saw the Gala Casino in Dundee host our first Regional Final of the new season.
The top three players would each be awarded with our first National Final seats along with a share of £1000 as all of the top eight would be paid.
The Northern Bar and Butcher's Arms, both in Aberdeen, would be the best represented pubs at the final table with both pubs providing half of the eight player final. Unfortunately all four just fell short of the heads-up match which was contested between the chip leader as the final table got under way, Richard Arnott from the Cupar Arms in Cupar and Oscars Bucs from the Auctioneers in Inverness. The tournament came to a sudden end as both players were dealt huge hands. Richard held TdTc with Oscars needing a little help with his AhJs. As the flop was dealt, Oscars got the luck he needed by pairing his A and although it wasn't required, the Ac popped out on the river to give Oscars a full house on a 4dAs4c 5d Ac board. Oscars Bucs was crowned as our first Regional Champion of the new season and he received a Redtooth glass trophy, £500 and a National Final invite.
National Final Qualifiers & Cash Prize Winners
1st Oscars Buc – Auctioneers, Inverness
2nd Richard Arnott – Cupar Arms, Cupar
3rd Garry Pratt – Butcher's Arms, Aberdeen
Other Cash Prize Winners
4th Richard Grieve – Northern Bar, Aberdeen
5th Carole Cowan – Nothern Bar, Aberdeen
6th Bruce Hay – Red Lion, Aberdeen
7th Bill Cowan – Scotia Bar, Aberdeen
8th Ian Kirkland – Butcher's Arms, Aberdeen