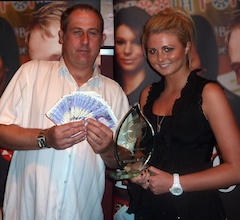 The Gala Casino in Edinburgh would once again host the South Scotland Regional Final with a lovely day being enjoyed by all.
The top eight would leave the venue with a cash prize but only the top two would also leave with National Final invites.
A near 100% turnout would pack the Gala Casino on their quest to become our next UK Pub Poker Champion. A nine player final table would see one unlucky player leave empty handed, unfortunately Elizabeth Harris from the Crofters in Edinburgh would bubble the money places by finishing in 9th place.
The heads-up match would come down to Gary Purcell from the Pentland Roadhouse in Loanhead and Alan Brown from the Queens Retreat in South Queensferry. The cards were on Gary's side as his 8c5c held up against Alan's 6c4d for the final hand on a board of 2cKs9c 2d 8s to make Gary our new South Scotland Champion.
National Final Qualifiers & Cash Prize Winners
1st Gary Purcell – Pentland Roadhouse, Loanhead
2nd Alan Brown – Queens Retreat, South Queensferry
Other Cash Prize Winners
3rd Mic Thomson – Crofters, Edinburgh
4th George Halliday – Pentland Roadhouse, Loanhead
5th Emma Erwin – No. 2 Baker Street, Stirling
6th Albert Malloy – Torphican Arms, Mid Calder
7th Iain Clark – Craig Dho, Paisley
8th George Young – Fountain, Aberfeldy