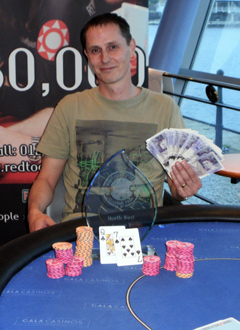 'Leo's' Casino in Liverpool was the battlefield for our North West Two Regional Final. On this occasion the top six players would make the National Final while 7th and 8th place would have some comfort in knowing they'd receive a small cash prize.
Play got under way in good time and the tournament as a whole ran very smoothly which meant the final table would be upon us in next to no time. Little did we know that this would be where we experienced one of the comebacks of the weekend in the shape of Dave Campbell from the Chapel House Hotel in Warrington. Dave would start the final table with only 25,000 in chips which would make him the second shortest stack. But this wouldn't stop him bulldozing his way through the other nine players to take our North West Two Regional Final title. Although his Q7 off suit didn't improve on a 35K 9 A board, luckily, neither did our runner-up Alan Ball's J8 off suit. Dave's Q-high earns him £500 and a Redtooth glass trophy. Good luck at the National to all qualifiers!
A special mention goes to Kibria Miah from Rileys in Chester who must of thought a crucial final table double-up was on it's way as he made a set of Jacks on the flop, only to fall to a 2-outer on the river as an A gave Kibria's opponent a higher set! Unlucky!
National Final Qualifiers & Cash Prize Winners
1st Dave Campbell – Chapel House Hotel, Warrington
2nd Alan Ball – On Cue Snooker Club, Ellesmere Port
3rd Colin Sutton – Chesterway, Northwich
4th Simon Barnes – Wheatsheaf Hotel, Sandbach
5th Tim Wharmby – Harvest Mouse, Heswell
6th Ross Milligan – Harvest Mouse, Heswell
Other Cash Prize Winners
7th Elly Shute – Old Custom House Inn, Chester
8th Nick Blackburn – Priory, Liverland