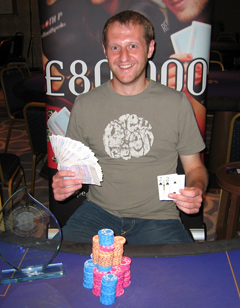 The ever impressive Alea Casino in Nottingham hosted our East Midlands Regional Final for a third consecutive time. A venue which is quickly becoming a big favourite at the Redtooth HQ. Just as equally impressive was the turnout, a whopping 207 players sat down across 21 tables to play some No Limit Texas Hold'em.
'Shuffle up n deal' was announced just a little after 2pm and our first elimination was followed soon after. Shaun Palmer from the Harrington Arms in Nottingham was the unfortunate player. This now meant that everyone else could relax and play some poker.
Several hours later we were down to our final table of 10. Unfortunately two of the remaining 10 would leave empty handed leaving the top eight with a cash prize and a National Final invite. Unsurprisingly our two big chip leaders Matt Hickey from the Chesterfield Arms in Bretby and Danny Allen from the Grove Pub in Nottingham, who had 700,000 chips between them would make the heads-up match. But the story of the final table goes to Dave Crosby, one of our Redtooth Tavern online qualifiers who came from only 8,000 in chips to finish in 6th place for £40 and a place in next years National Final.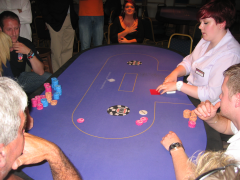 The heads-up match started with Danny as the chip leader but it wasn't as straight forward as he'd of liked with the chip lead exchanging hands three or four times until we finally got our East Midlands winner. A pre-flop all-in and a call saw Danny with Js2s and Matt with Ah9h, Matt must of thought he was on for a double up when the flop came 2h9s3h, giving him top pair, top kicker and the nut flush draw. But that still wasn't enough as the turn and river came 8d and 2c giving Danny trips and more importantly the win as he collects a nice glass trophy, £500 and a seat in our National Final.
National Final Qualifiers & Cash Prize Winners
1st Danny Allen – Grove Pub, Newark
2nd Matt Hickey – Chesterfield Arms, Bretby
3rd Helen Bishop – Argosy, Derby
4th Matthew Collier – Rufford, Mansfield
5th Richard Amess – Chesterfield Arms, Bretby
6th Dave Crosby – Redtooth Tavern, Online
7th Chris Squire – Tappers Harker, Nottingham
8th Matt Hardy – Codnor Inn, Codnor