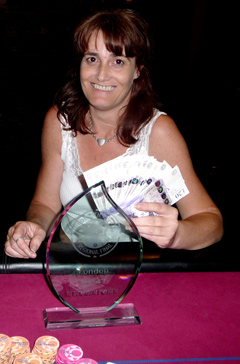 The Loose Cannon Club in London hosted the first of two London Regional Finals. First up was East London and it certainly delivered this time around!
172 runners would sit down before the start of the tournament…. well, 171 to be precise, as one qualifier, Terri Wood from the White Hart in Chelmsford would turn up a little late totally out of breath after closely matching Usain Bolt's 100m sprint record to make the tournament. As if thing's couldn't get any worse for Terri, she then decided to throw a whole glass of coke all over her lap as she sat down just to make it an even more of a nightmare start. Would this be the last we hear of Terri Wood?
Meanwhile, on another table, we lost a player on the very first hand of the tournament. Two big hands were dealt in the shape of Pocket Queens and Pocket Aces, obviously the chips were going to fly and they sure did when the river brought a Q on the board to crush the Aces and eliminate a player in the very first hand.
A final table of 10 would see seven National Final qualifiers and eight cash prize winners. As we got down to the final eight, it was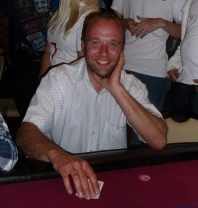 'squeekybum' time for Darren Foster (right) from the Eagle & Hind in Chelmsford. He had only a single 5,000 chip in front of him with still one elimination to go before the qualification places were reached. Unbelievably Darren sneaked into next years National Final as Martin Connelly was the unlucky 8th place finisher. At least Martin left with £20 in his back pocket.
Soon after we were down to the heads-up match between a debutant in Inno Nigro from the Victoria in Cheshunt and… oh… it's Terri Wood again. Not only did Terri start the final table as the chip leader, Terri's roller-coaster of a day would end with her taking down the whole tournament when her AdQc came back from behind on the flop against 6c4c on a 4d7d6d Jd Td board meaning Terri would collect an impressive glass trophy, £500 and a National Final invite. What a day!
National Final Qualifiers & Cash Prize Winners
1st Terri Wood – White Hart, Chelmsford
2nd Inno Nigro – Victoria, Cheshunt
3rd Chris White – Hop House, Tunbridge Wells
4th Sam Edmonds – Red Deer, Croydon
5th Ram Marouani – Hop House, Tunbridge Wells
6th Stuart Rowley – Alleyns Head, Dulwich
7th Darren Foster – Eagle & Hind, Chelmsford
Other Cash Prize Winners
8th Martin Connolly – Horseshoe, Thornton Heath