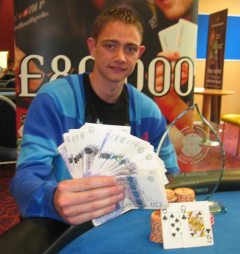 The well organized Circus Casino, Star City in Birmingham hosted our second West Midlands Regional Final for season 1. 162 players meant the top 8 would all receive a cash prize and a National Final seat.
Play got under way on time at 2pm with a very tight and nervy first hour. Only a handful of players would be eliminated during this time which meant the inevitable rush of knock-outs after the first break.
At around 7pm we had our final table of 10 were unfortunately two of the players would still leave with nothing. It took literally a few hands until we had our final eight players and qualifiers for the next years National Final. Amongst the final eight was Janet Page from the Golden Hind in Kingstanding, this would be Janet's third Regional Final final table in a row and once again making the National Final. This time around Janet would exit the Regional Final in third place, which left the heads-up match between Sean Julien from the Bull & Anchor in Coventry and Patrick Buchanan from the Beggars Bush in Birmingham, with Sean holding the chip lead. One hand later it was all over as Sean flopped top pair but was unbelievably still an underdog to Patrick's huge draw, an open ended straight draw and a flush draw. Somehow Patrick missed everything as Sean's Qc8s held up on a 2dQdJs Ac 4h board against Patrick's Td9d. Well done Julien.
National Final Qualifiers & Cash Prize Winners
1st Sean Julien – Bull & Anchor, Coventry
2nd Patrick Buchanan – Beggars Bush, Birmingham
3rd Janet Page – Golden Hind, Kingstanding
4th Craig Brown – Yard Of Ale, Birmingham
5th Dave Symons – Alfred, Burton-on-Trent
6th Todd Keyte – Hilton Brook, Hilton
7th Paul Gray – Bowling Green, Lichfield
8th Stephen Mear – Wyggeston, Burton-on-Trent