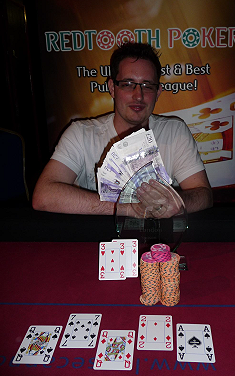 123 players entered the Loose Cannon Club in London with the hope of reaching next years National Final and taking home the £500 1st prize and a Redtooth crystal glass trophy.
Only the top six would make the National Final, which left two of the final table leaving empty handed and another two players with a cash prize of £20 and £30 which should soften the blow slightly. Surprisingly, our the chip leader Peter Jones from the George in Slough just fell short of a National Final place as he hit the rail in 8th place winning £20 in cash. That left the final seven players all playing for six National Final seats. Raj Dattani, who was a short stack the whole time was the unlucky player to miss out as he finished in 7th place for £30, but Raj still has plenty more chances to qualify.
Kieron Steer from the Goat In Boots in Chelsea and Jimmy Carolin from the Fest Pub in Fulham would play for the top prize and trophy. Kieron would go on to be crowned the new West London champion as his pocket 3's won the race against Jimmy's 8c6c on a Qs7sQh 2d As board. Well done to all National Final qualifiers.
National Final Qualifiers & Cash Prize Winners
1st Kieron Steer – Goat In Boots, Chelsea
2nd Jimmy Carolin – Fest Pub, Fulham
3rd Daniel White – Chequers, Walton-on-the-Hill
4th Danny Foley – General Roy, Feltham
5th Arun Sood – White Hart, Hayes
6th Andy Norris – County Arms, Isleworth
Other Cash Prize Winners
7th Raj Dattani – Butlers, High Wycombe
8th Peter Jones – George, Slough