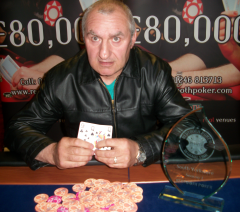 Sheffield United's Bramell Lane played host once again to our South Yorkshire Regional Final. 188 players played for eight National Final seats and a share of £1000.
The UK's Pub Poker Champion, Daniel Blackburn had a Regional Final to forget as he hit the rail in 177th. Fortunately for Daniel he still has plenty of time to reach the National Final again as this was just the start of his quest to defend the title he deservedly won in March.
A final table of eight would mean everybody who made it this far would win a National Final seat. But there would still be a matter of a £500 first prize to play for and not forgetting a very nice Redtooth crystal glass trophy. Six eliminations later we were left with Jack Siddons from Rossington Labour Club in Doncaster and Ian Wood from the Three Horseshoes in Wickersley. The tournament would be decided with a classic race, Ian's Qs9c would be up against Jack's 4c4h. Ian got a good JhJc8d flop meaning an 8 would also give Ian the victory. But it was the more unlikely runner runner straight that gave Ian the win with a Kd turn and Ts river. Ian takes home £500 in cash, a Redtooth trophy and a National Final seat.
National Final Qualifiers & Cash Prize Winners
1st Ian Wood – Three Horseshoes, Wickersley
2nd Jack Siddons – Rossington Labour Club, Doncaster
3rd Camilla Robson – King & Miller, Retford
4th Trevor Lowe – Three Horse Shoes, Chesterfield
5th Andy Wademan – Hammer & Pincers, Sheffield
6th Chris Dixon – Miners Arms, Sheffield
7th Jim Baker – Donkey Derby, Chesterfield
8th Rickie Silcock – Three Horse Shoes, Chesterfield