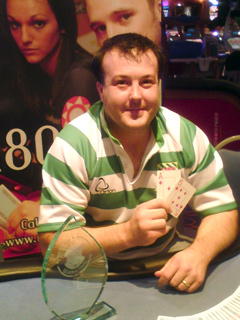 A healthy 90% turnout visited the Stanley Circus Casino in Newcastle for another tense and nerve racking North East Regional Final. Six National Final seats and a share of £1000 were up for grabs once again so let the battle commence!
Play was under way around 2pm with all players in good spirit and excited for the day ahead. This excitement didn't last long for Gary Myerscough however, as he was our first elimination in 153rd place. Once Gary had hit the rail, many others soon followed as we approached the final table in next to no time.
A nine player final table would see three of the finalists leave without a National Final seat. Gary Snaith from the Met in Whitby would sit at the top of the pile as play got under way with 206,000 in chips, this stack would be enough to see him make the final two places where he would find an opponent in the shape of Paul Elliott from the Owington Farm in Billingham. Unfortunately for Gary, the win was a step too far as Paul's A5 held up vs. Gary's T8 on a QQ3 J J board. Paul Elliott takes home the £500, a trophy and the title of North East Regional Champion.
Cash Prize Winners
1st Paul Elliott – Owington Farm, Billingham
2nd Gary Snaith – Met, Whitby
3rd Jonathan Beadle – Riley's, Darlington
4th Brian Alderson – New Seaham Conservative Club, Seaham
5th Dave Walls – New Delaval Newsham Working Mens Club, Newsham
6th Lee Coates – Durham Ox, North Allerton
7th Scott Driver – Newton Park, Newcastle
8th Geoff Hall – Ridley Park, Blyth
National Final Qualifiers
Paul Elliott
Gary Snaith
Jonathan Beadle
Brian Alderson
Dave Walls
Lee Coates